All our chicken is freshly hand cut and prepared on site by our master butchers, every week. They're so big because they are hand cut.
All our chicken is English and is locally sourced. Through years of trusted trade with our local supplier, 100% chicken is what you get!
Chicken Breast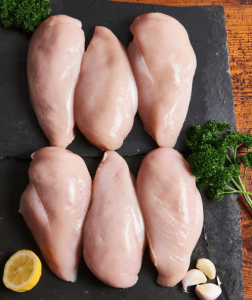 Unlike most supermarkets we don't add or pump our chicken breast with any nastiness! Most add salt and water to their chicken to increase the size.
Our chicken breast's start at just £4.59 per kilo under the bulk buy offer.
The bulk buy offer is for 20 or more breasts in one bag for £4.59 per kilo, with this deal you will be saving roughly £9.
Not interested in buying in bulk? Have as little chicken as you like for just £5.59 per kilo.
Whole Chicken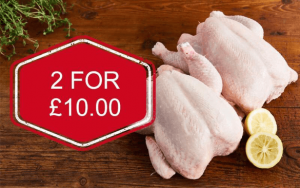 Next up is our very large English whole chickens.
From our same great trusted supplier, and for just £10 you can grab two whole chickens that are typically 2.4kg in weight! Always at this great low price.
These are also what we used to brake down to produce your thighs, drumsticks and wings:
Thighs and drumsticks are £3.99 per kg.
Wings are £1.99 per kg.
Marinated Chicken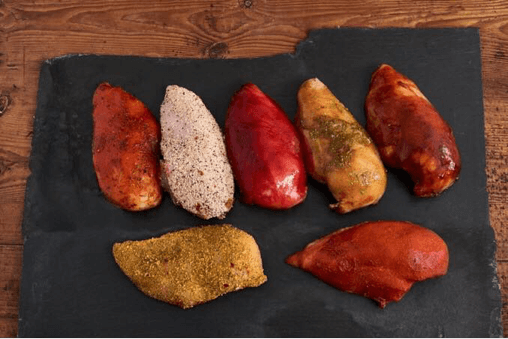 Finally we have our fantastic selection of marinades! With delicious flavours from across the world, we're sure that you'll find one that is perfect for you!
We have plenty of choices, 21 marinades to be precise to satisfy everyone's taste buds. These marinated chicken breasts come from the same supplier as the regular chicken breast above.
We also have 3 different flavours of gluten-free marinades so that nobody feels left out from this deal, despite their dietary requirements.
Read more here for more information upon the allergens in our popular marinades.