Condiments
From tangy tomato ketchup to sizzling steak sauce, our vast condiment range personifies what we do at Swiss Farm. Each product is carefully prepared, made with quality ingredients, and best of all, is sure to take your taste buds on a great gastronomic journey. Arguably to most awesome condiment range around.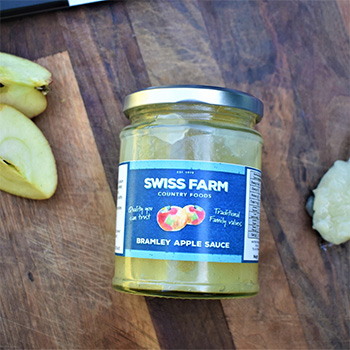 Bramley Apple Sauce
Made with fresh Bramley apples, our traditional apple sauce is sweet and the perfect accompaniment to roast pork. A big dollop next to slow-roasted pork shoulder, loin, or leg – there's nothing better.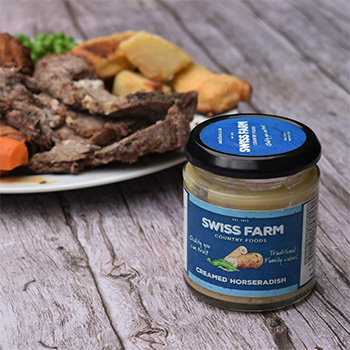 Creamed Horseradish
We love a good horseradish at Swiss Farm, and this one is a cracker. Made with a dash of mustard, it's wonderfully creamy and sensational with roast beef and all the goodies.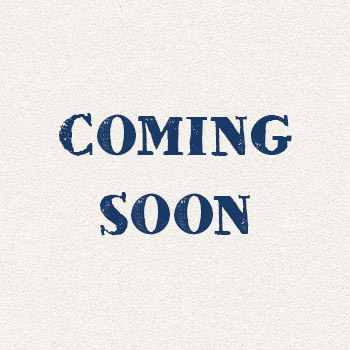 Cranberry Sauce
No Christmas feast is complete without a jar of cranberry sauce passed hastily around the dinner table. A staple with roast turkey and all the trimmings, this rich cranberry sauce is also delicious spread over roast chicken. The ideal balance between sweet and tang.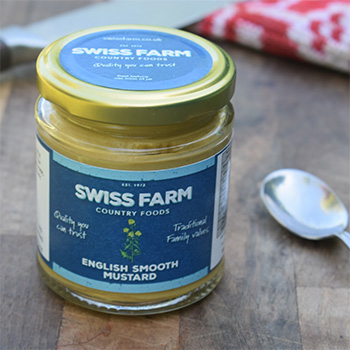 English Smooth Mustard
Soft in texture and traditionally flavoured, our smooth mustard packs a culinary punch – and it's a good one. Well-rounded with an added dash of turmeric, it goes great with flame-grilled Rib Eye steaks, or added to mash potatoes for a spicy kick. A good ol' dollop does wonders.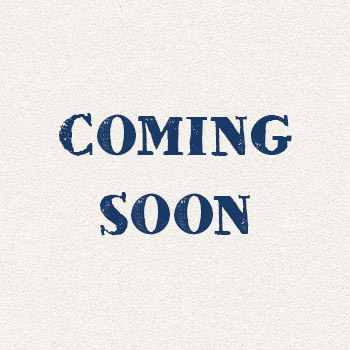 Sausage Ketchup
When you've been making sausages for 50 years, you know what you want in a sausage ketchup. Rich, tangy, and designed to spread over sizzling sausages.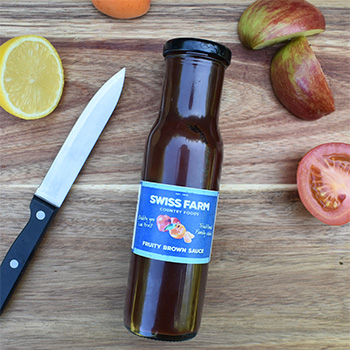 Fruity Brown Sauce
Love bacon and sausages? Then you'll love our new, fruity brown sauce. Made with dates and spiced to perfection, it has sweetness, tang, and all the familiar flavours brown sauce is known for. A staple for brunch lovers.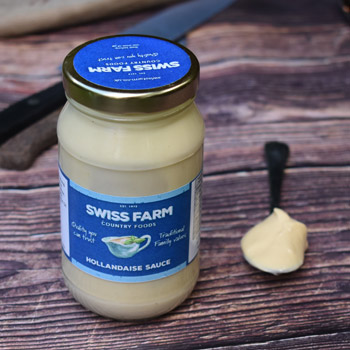 Hollandaise Sauce
Eggs benedict fans, rejoice. We've done it. A superbly flavoursome, French-style hollandaise sauce that's rich, moreish, and made with a dash of lemon. Try poaching a few eggs, grilling some asparagus, and pouring over ham and muffins. It's an incredible combo.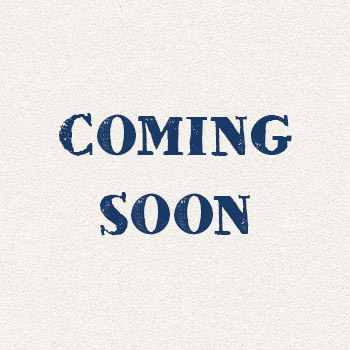 Cumberland Sauce
With a rich, traditional flavour, our fruity Cumberland sauce has fruity bursts of orange, real redcurrants and is spiced to perfection. The ideal accompaniment to ham, venison, and lamb.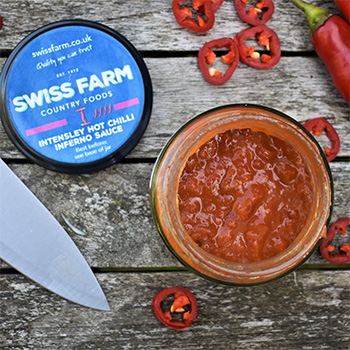 Intensely Hot Chilli Inferno Sauce
If you've tried our Dante Inferno specialty sausage, you'll know we like a bit of heat – and this has heat. Made with fiery chilies, this chunky sauce is great spread over eggs, burgers, or added to a great BBQ leftover dish – loaded nachos. A sauce as spicy as it is versatile.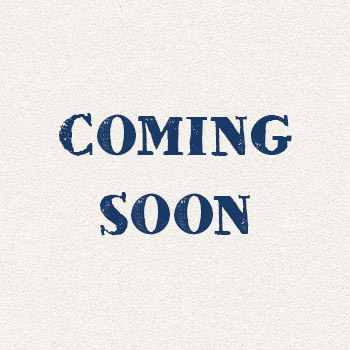 Garlic Mayonnaise
Sensationally smooth with garlics notes throughout, this is a mayo is sure to liven up your sandwiches. Made with real garlic, it's a key condiment for this BBQ season.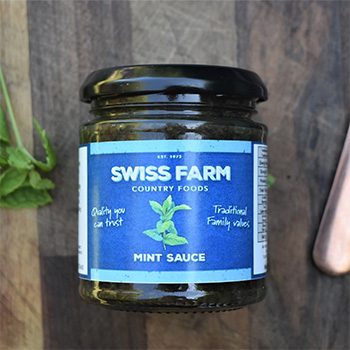 Mint Sauce
Packed with minty goodness and perfect with roast lamb, our classic mint sauce is savoury, tasty, and great mixed in mushy peas for an added flavour and colour boots.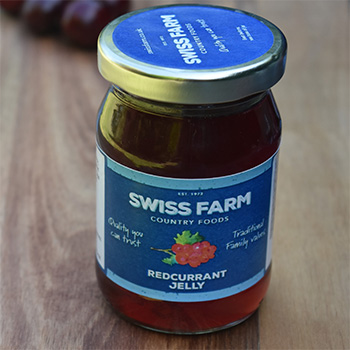 Red Currant Jelly
Delicious with roast lamb. Equally delicious with our smoked gammons and range of game meats. A traditional condiment that's big on sweetness and a great option if you want to sweeten up gravy.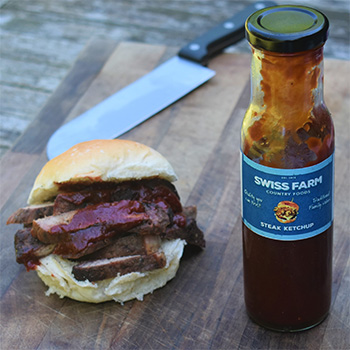 Steak Ketchup
It's a ketchup as mouth-watering as it sounds; ketchup crafted for steak. Rich in flavour and unbelievably moreish, our hugely popular steak ketchup has notes of tomato, hints of Worcestershire sauce, and an array of spices making it a staple in the Swiss Farm pantry. Perfect with all our steaks from mighty T-bones to tender fillet steaks.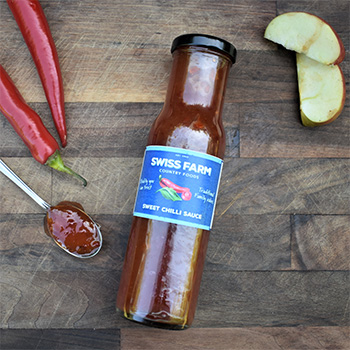 Sweet Chilli Sauce
Whether you fancy a quick stir-fry, or just need a sticky chilli sauce with a kick, this sauce is for you. Red peppers combined with apple purée makes it sweet, spicy and a delicious culinary all-rounder.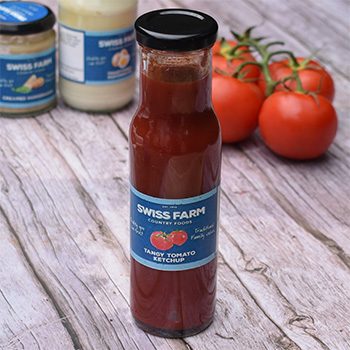 Tangy Tomato Ketchup
This ketchup is a condiment for all your culinary needs. Made with fresh, ripe tomatoes, it's great spread over our prime steak burgers, dolloped next to a big, juicy steak, or just as a delicious dipping sauce for hearty Swiss Farm fry-ups. Packed with tomatoey goodness and a key condiment in our pantry.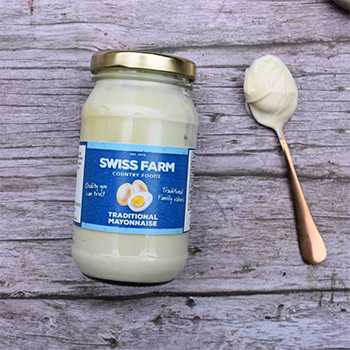 Traditional Mayonnaise
A condiment you won't want to be without – traditional mayonnaise. Beautifully smooth with a subtle tang, it's a mayonnaise crafted with care and sensational spread inside a meaty sandwich.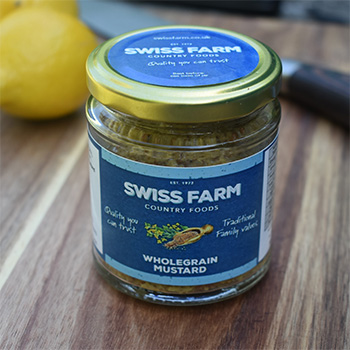 Whole Grain Mustard
Rich and earthy – that's how we like a whole grain mustard. And this is that. Made with quality whole mustard seeds, it pairs perfectly with our range of fresh, British beef and pork.

Come and visit us and see how you can start saving
Our locations