No need to give up burgers if you want to eat healthy, just a few ingredient swaps and you have yourself a tender and delicious burger! We have replaced a bread roll with a large and tasty portobello mushroom, and instead of fried chips, we have some baked courgette chips. Get ready to enjoy Swiss Farm burgers at their best!
Makes 1 burger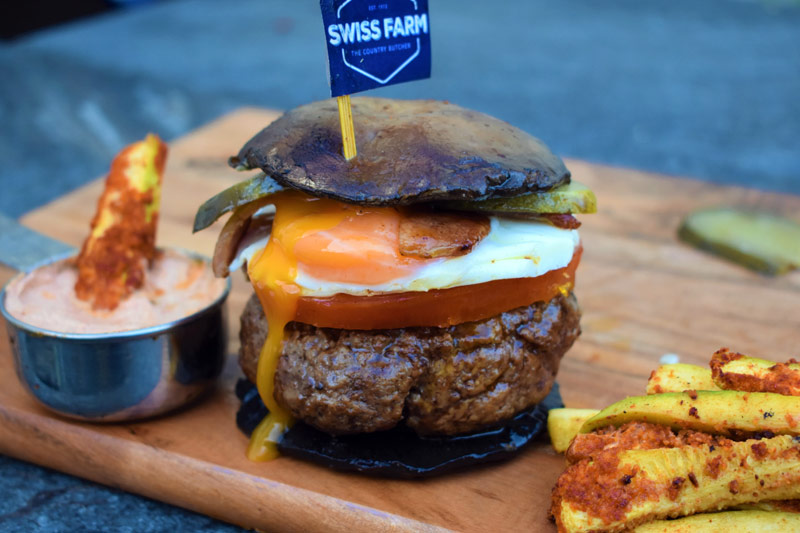 Ingredients
Main burger toppings
1 steak burger
1 egg
1 rasher of our famous oak smoked bacon
1 large tomato (sliced)
1 Sliced gherkin
Courgette Chip
1 courgette (sliced into chip size)
2 tbsp almond flour
1tsp paprika
½ tsp salt
1 egg beaten
Smoky Chilli dip
2 tbsp Greek yoghurt
½ tsp chilli powder
½ tsp smoked paprika
Method
Pre heat oven to 200c. Slice courgette into chip size and coat in egg yolk.
In a bowl, mix together almond flour, paprika, salt and then coat courgette chips in seasoning. Place in oven and cook until soft inside (about 20 min).
Meanwhile, spray a non-stick pan and fry steak burger and bacon.
Whilst burger is cooking, mix Greek yoghurt, paprika and smoked paprika together.
Finally, once burger and bacon are cooked, fry an egg in the pan juices and put everything together!