Bacon n' beef BBQ balls (the perfect BBQ starter!)
Ok, prepare yourself…these are ridiculously moreish! Made using our lean steak mince, oak smoked streaky bacon and stuffed with mozzarella, these tender BBQ balls are seriously tasty and the perfect starter for a big family BBQ!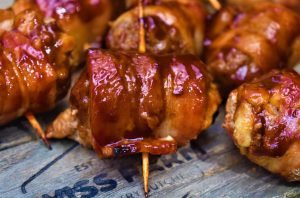 Ingredients
Makes 20 balls
500g steak mince
1 pack of our streaky bacon
4 tbsp of breadcrumbs (we used wholemeal)
1 handful of grated mozzarella
1 large egg, beaten
Salt and pepper to season
BBQ sauce to brush
Method
1.       Pre heat BBQ to medium heat (or you can use the oven at 180c). Combine steak mince, breadcrumbs and beaten egg in a large bowl, mixing well.
2.       Divide mixture into 20 small meat balls. For each ball, make a hole in the centre and add a pinch of mozzarella. Repeat for each ball and set aside.
3.       Now, cut each bacon slice into two and wrap the bacon around each ball (one half of bacon for one meat ball). Use a toothpick to hold bacon.
4.       Add to oven and cook for around 20 minutes until cooked through.
5.       Take out five minutes before cooking time has finished and brush each meat ball with BBQ sauce. Serve with more BBQ sauce if desired!