Cherry Bourbon BBQ Baby Back Ribs
Slow cooked baby back ribs cooked to tender perfection – if you like ribs, you've got to give this a try! Made with our British pork baby back ribs, this recipe has delightful tanginess from the cherries, lovely hints of whiskey, and all culminating into a dish which is sweet, tangy and totally delicious.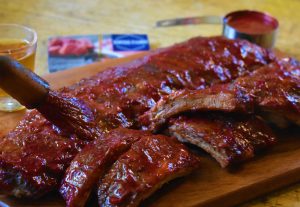 Ingredients 
(Serves 4)
Dry rub
2lbs of our baby back pork ribs
½ tsp garlic powder
½ tsp smoked paprika
1tsp sea salt
1 tsp black pepper
Cherry Bourbon BBQ Sauce
1/2 tbsp butter
2 garlic cloves (minced)
200g tomato ketchup
40g mustard
2 tbsp maple syrup
2 tbsp cider vinegar
3 shots of your favourite bourbon
1 ½ cups frozen cherries
Method
1. Pre heat oven to 120 degrees C.
2. Combine dry rub ingredients and rub into the ribs thoroughly.
3. Cover with tin foil (tightly making sure there are no holes) and cook for 2 ½ to 3 hours.
4. Whilst ribs our cooking, prepare BBQ sauce. Heat butter on a medium heat in saucepan and sauté garlic until soft. Place remaining ingredients (cherries will need to be deforested) into a bowl and puree or blend.
5. Return to saucepan and bring to boil. Now reduce to a simmer and allow sauce to thicken (around 20-30min).
6. Once ribs are cooked (look to see if the rib has exposed bone) cover one side in marinade and return to oven until meat is browned and sauce is slightly charred (around 5-10min).
7. Remove from oven and repeat on remaining side.
8. Cut ribs, brush with more BBQ sauce and serve!