Chicken & Oak Smoked Bacon Pie
Chicken pie is a classic, but when combined with our oak smoked and dry cured bacon, this pie takes on a whole new level! Crispy pastry, tender chicken and hints of our smoky bacon…we needn't say more!
Serves 6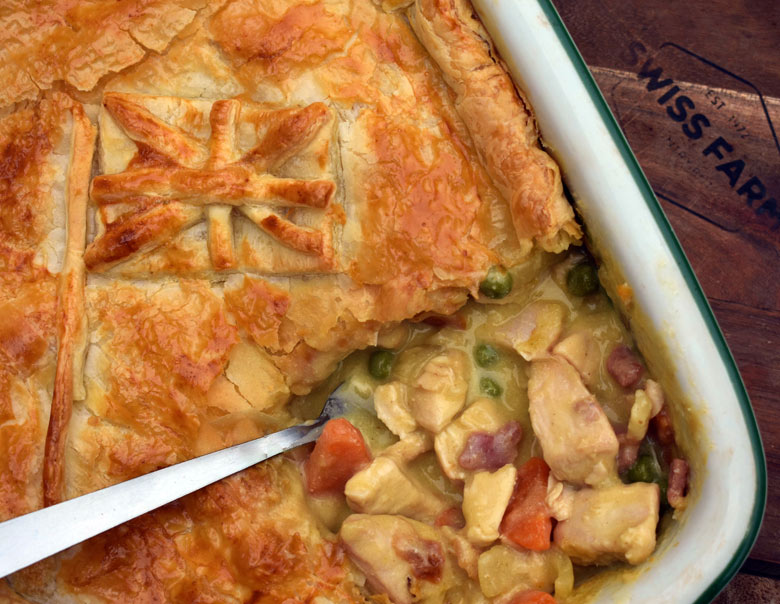 Ingredients
4 diced chicken fillets
50g of streaky bacon (we recommend our oak smoked & dry cured streaky bacon!)
250g puff pastry (ready-made)
1tbsp olive oil
1 medium onion (chopped)
1 large carrot (chopped)
1 tbsp plain flour
200ml chicken stock
100ml double cream
25g frozen peas
1 sprig of fresh thyme
1 ½ mustard
1 large egg (beaten)
Method
Pre-heat oven to 200c.
Add ½ tbsp of oil to pan on medium heat and cook (large pan is a good idea). Set aside.
Now add remaining to pan and fry onion, carrot until soft. Chop bacon and add to pan, cooking for 5 min.
Add to chicken pan and sift in flour, cooking for 1 minute. Add stock, cream, peas, mustard, rosemary and simmer for 5 min.
Place mixture to casserole dish and cover with pastry. Bush with beaten egg and cook until golden brown!