Chili made with our lean steak mince doesn't just taste amazing, it's a great option for an easy to make dinner! Spicy, hints of smoky and super tasty…give it a go!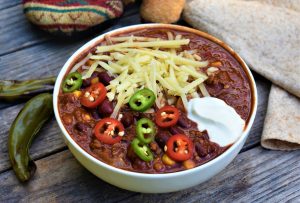 Ingredients
Serves 4
500g lean steak mince
1 tablespoon olive oil
1 onion (diced)
1 garlic clove (crushed)
1 red chili (finely sliced)
2 cans kidney beans (in water) (400g can)
1 can chopped tomato (400g)
1 tablespoon tomato puree
3 teaspoons chipotle paste
½ teaspoon cayenne pepper
2 teaspoon cumin
1 teaspoon ground coriander
1 teaspoon smoked paprika
1 beef stock cube
20g Dark chocolate (70%)
Dash of red wine vinegar
Sides
Rice, tortillas & nachos all go great!
Method
Heat olive oil in a casserole dish and gently fry onion, garlic and chilies until soft. Set mixture aside.
Turn up heat and add beef mince, cooking until browned and cooked through.
Add fried vegetables to beef mince and then add spices – cayenne pepper, smoked paprika, coriander, cumin and vegetable stock cube.
Now add the tomato puree, kidney beans, chopped tomatoes, chipotle paste, dark chocolate along with 250ml of water and a dash of red wine vinegar. Stir ingredients well.
Turn up the heat for a minute and then simmer for 45-60 minutes with lid covering the chilli.
Whilst chili is simmering, prepare chosen sides.
Enjoy!