Mexican chilli & chocolate pork chops
If you've never heard of chilli and chocolate together, you might be thinking "chilli and what did you say"! But trust us, it's a cracking flavour combination!
This recipe is inspired by Mexican hot chocolate recipes which gives this dish hints of spice, sweetness and of course chocolate! The marinade is quick to make and you can grill these pork chops in the oven or over the BBQ.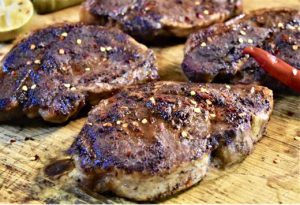 Ingredients
Serves 4
4 boneless pork chops
1 tbsp olive oil
1 tbsp cocoa powder
1 tsp ground cinnamon
1 tsp chilli powder
1/4 tsp cayenne pepper
1 tsp chilli flakes
1/2 tsp black pepper
1/2 tsp salt
Garnish
1 lime, halved
1-2 red/green chillies
Method
1. Pre heat oven to 200c. Rub olive oil over pork chops.
2. To make marinade, place dry ingredients in a small bowl and combine.
3. Rub marinade over pork chops, drizzle with lime juice (if desired) and place in oven cooking for 35-40 minutes, or until cooked through.
4. Allow to rest for 5 minutes and enjoy!