Spaghetti Bolognese… Swiss Farm Style!
Full of traditional flavours you'd expect from a homemade spaghetti Bolognese, but with the added Swiss Farm bonus!
The dish is rich in tomato and paired with simple yet delightful vegetables, Italian herbs and of course, generous portions of Parmesan cheese. However, when you combine all this with our prime British steak mince and our famous oak smoked streaky bacon, this dish takes on a whole new level!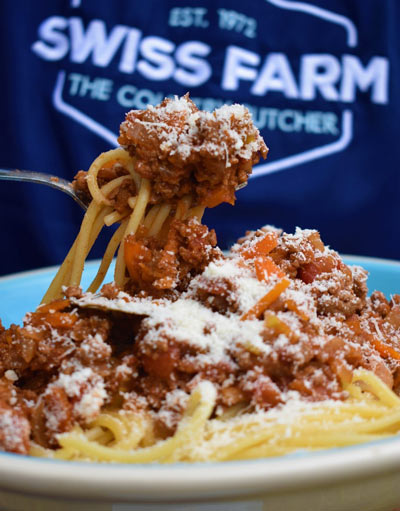 Ingredients
500g ground steak mince
4 rashers of streaky bacon, chopped
2 cans plum tomatoes
2 celery stalks finely chopped
2 carrots, finely chopped
1 onion, finely chopped
1 garlic clove crushed, optional
1 tablespoon tomato purée
1 glass (125ml) red wine
1 beef Oxo cube
1 teaspoon oregano
1 bay leaf
1 table spoon olive oil
I pack spaghetti pasta
100g Parmesan cheese
Method
Heat half the oil on a medium/high heat and fry streaky bacon until nice and golden crisp. Set aside.
Next, heat remaining oil and add carrots, onions, celery, garlic clove (optional), stirring frequently until softened.
Brown mince and sprinkle oxo cube in, mixing well. Now add the bacon, softened veg, plum tomatoes (chopped up), tomato purée, red wine, oregano, bay leafy to the mince.
Add 125ml of water and bring mixture to a boil. Reduce heat and simmer for 1hr 30min, stirring occasionally until sauce is rich and thick.
Cook spaghetti according to pack instructions and grate Parmesan.
Grate some extra Parmesan because we all like a bit more!