Texan Style Pulled Pork with Homemade Coleslaw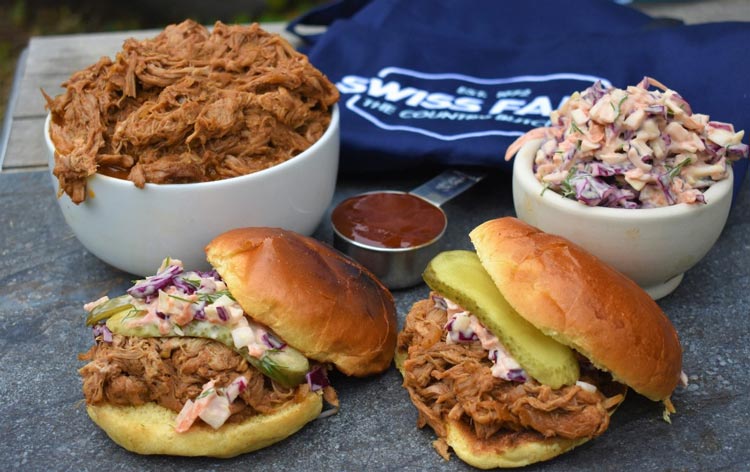 Need a recipe for shoulder of pork? We have a great one for you to try!
Developed by David, the owner of Swiss Farm, after time exploring Southern USA in search of great tasting food, this Texan special is smoky, spicy and totally delicious!
This recipe uses 2kg of pork shoulder, so feel free to ask our Swiss Farm staff to halve the joint, or just double up on the recipe!
For Pulled Pork
1 tablespoon olive oil
2kg pork shoulder, skin and fat removed
250ml smoky BBQ sauce
125ml apple cider vinegar
60ml maple syrup
4 tablespoons brown sugar
125ml chicken stock
1 tablespoon yellow mustard
1 tablespoon Worcestershire sauce
1 tablespoon chilli powder
1/2 tablespoon paprika
1 onion, chopped fine
2 garlic cloves, crushed
1 ½ teaspoons thyme, dried
8 brioche buns, halved
For Coleslaw
1/4 green cabbage, shredded
1/4 red cabbage, shredded
1 small carrot, grated
1/2 red onion, finely chopped
1 tablespoon cider vinegar
8 tablespoons mayonnaise
2 teaspoons Dijon mustard
2 tablespoons chopped fresh dill
Method
Heat oven to 150c and rub pork with the olive oil.
Place pork into the bottom of a roasting tray (fat side down) and pour in smoky BBQ sauce, apple cider vinegar, maple syrup and chicken stock.
Stir in the sugar, mustard, Worcestershire sauce, chili powder, paprika, onion, garlic, and thyme, covering pork all over.
Cover pan and cook until the pork shreds easily with a fork (5 to 6 hours).
Remove pork from pan and shred using two forks. Once shredded, skim off the fat from the pan juices and return shredded pork back to the pan, stirring pork into the juices.
To make coleslaw add cabbage, carrot and onion in a large bowl. In a separate bowl, whisk vinegar, mayonnaise, mustard and dill together in a jug and combine to cabbage mixture. Season with salt and pepper.
Halve the brioche buns, add shredded pork into the buns. Top with coleslaw and a pickle (if desired).
Enjoy!