USA Fluffy Pancakes…Swiss Farm Style!
How do you make fluffy USA pancakes with maple syrup even more awesome? Easy! Add our oak smoked bacon and speciality maple sausage! Classic USA flavours the whole family will love.
Serves 4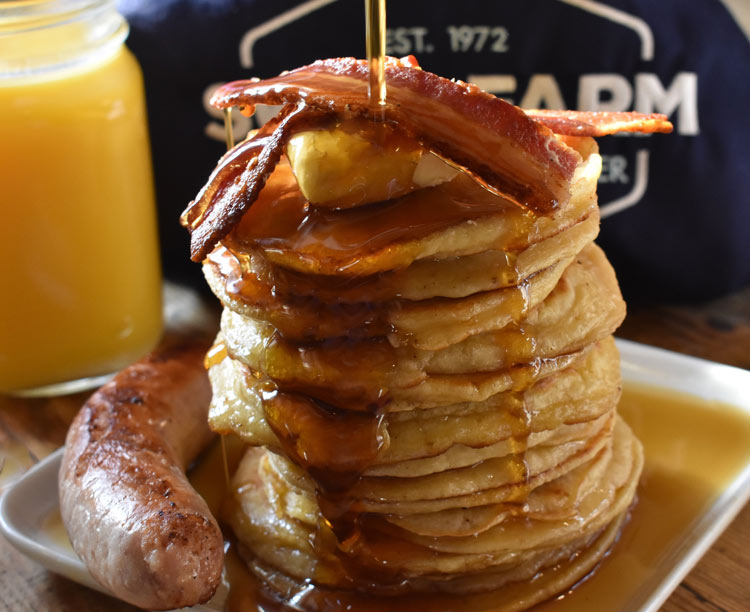 Ingredients
For the pancakes
200g self-raising flour (sifted)
1 tbsp caster sugar
1 ½ tsp baking powder
3 large eggs (beaten)
200ml whole milk
25g melted butter
Vegetable oil (for cooking)
Recommended toppings!
6 rashers of our oak smoked streaky bacon
4 Swiss Farm speciality maple sausages
Maple syrup
Butter (for cooking)
Method
In a large mixing bowl, add sifted flour, sugar, salt and baking powder. Make a hole in centre and add beaten eggs, melted butter and milk. Whisk until mixture is smooth (we use an electric one). Place mixture in fridge for 20min (allows mixture to harden slightly).
Heat on 1tsp of oil and butter on medium heat and add mixture to pan (approx. 6-8cm wide for mixture)
Cook for 1 to 1 ½ min or until bubbles start to appear and flip cooking for same time. If you have a large pan you can do a few at a time!
Repeat until mixture is used up (makes around 12).
To save time, cook bacon and sausages simultaneously. Add toppings and enjoy!