Get to know your pork. Joints from just £10!
The same great price and quality since 2014! Coming off our English pigs, our joints are hand cut, selected and prepared by our master butchers. Then immediately tied and vacuum sealed for freshness and convenience. No bone, no fuss.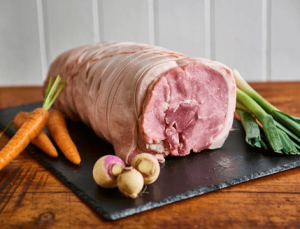 English Leg of Pork:
The leanest and biggest out of the three, typically used as a roasting joint. Weighing in at over 4kg, and at Swiss Farm is only £14.
Our whole English pork legs feed up to 20 people, they should be cooked for 40 mins per 450g on 150c/300f or gas 2.
Not a lover of pork? Click here for other great offers.
English Loin of Pork
The loin of pork is a classic roasting joint, Just £10 and normally around 2.5kg in weight.
If you're having a roast and wanting perfect crackling then look no further than the loin joint.
A whole loin joint will typically serve between 8-10 people for a family roast.
We suggest cooking your English loin of pork for 35 mins per 450g, on 150c/300f or gas 2.
English Shoulder of Pork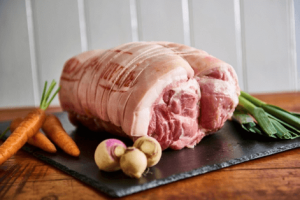 At an amazing price of just £10, the shoulder joint typically weighs 4kg. From as little as 56p per person You won't find better value!
Typically used for pulled pork, this is a superb meal for the family. You'll be surprised on the amount of people you can serve from this English joint. We recommend up to 18 people.
We recommend cooking for 50 mins per 450g on 150c/300f gas 2.
To be the first to hear about new products, special offers and competitions sign up for our e-newsletter.