10 Tips for BBQ Perfection
We all know great BBQ's need great meat, but to really get the most out of your meat, you need to prepare it right and cook it right. So, here are 10 tips from our BBQ and butchery experts to help you achieve BBQ perfection this summer.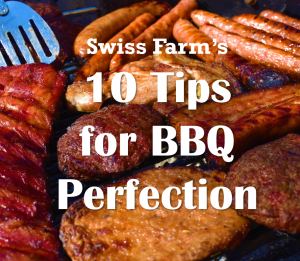 1. Choosing the right BBQ
Great, you've got the meat, planned the sides, now it's time to cook the meat! Here are two things we look for when choosing a BBQ:
• Is it a charcoal BBQ? We've been using charcoal BBQs since we first opened in 1972. It adds a great smoky flavour to the meat and also has that lovely BBQ smell you get when cooking! Gas BBQs do have their benefits, such as being easier to clean, but we go charcoal every day.
• What's the lid like? A BBQ lid doesn't just protect the meat, it keeps the temperature even, keeps the meat moist, and makes the meat even more flavourful.
2. Know your charcoal
If you're willing to put in a bit more time, charcoal is a great choice for cooking your meat. However, not all charcoal is the same and the type you choose can make a big difference to how the meat will taste. We like lumpwood charcoal versus briquettes, which is all natural and makes the meat taste great.
3. The magic of marinades
If you've bought Swiss Farm meat before, you'll know we sell a heck of a lot of marinated meat, and for good reason – it makes the meat super tasty and tender! If you choose to make your own marinades, cuts like steak are great marinated overnight, or you can marinade 2-4  hours before grilling.
4. How to get a smoky flavour
If you're like us and want to maximise the meat's amazing flavour, try adding wood chips to the charcoal. Cherry, apple and maple woodchips give a lovely sweetness to the meat and are great with chicken, whilst oak woodchips go great with beef and pork cuts.
5. Temperature is key
Getting the BBQ up to temperature is actually quite easy and doesn't require any fancy tools, just good old Swiss Farm know-how.
Once the BBQ is preheated, put your hand about 4 inches above the grill. If you're able to hold your hand over the grill for more than 5 seconds, it's likely not hot enough. Aim for between 2-4 seconds which is the sweet spot for us. Below 2 seconds, it's not just the meat we're cooking…
Another way to check is by looking at the charcoal. We normally aim for half an hour or so before cooking which is when the charcoal is a greyish ash colour, and with a slight red glow underneath.
6. Quirky sides
Whilst we could happily eat all our BBQ meat on its own, having some quirky sides adds even more fun to the BBQ. If you're short on time, ready made coleslaw, beans, corn on the cob and salads are great additions. However, when we do sides we go all out! Corn-on-cob wrapped in bacon, cowboy BBQ beans, you get the idea…(recipes available on our recipe page)
7. Let it cook
We know how it is, you worry the food is either not cooking, or its being burnt to a crisp, but constant checking can hinder your barbecuing. Try to avoid cutting and poking the meat as this can make the meat dry out. A good way to monitor the meat is checking for sear marks – this normally means it's ready to be turned over.
8. Safety
It sounds obvious, but safety when barbecuing really is important. Hot coals will drop below, the BBQ is obviously smoking hot, so be sure to keep an eye out for kids on the wander and doggies looking for food!
9. A few essential items
• Metal spatula – we've all been there; you can't find your spatula, so you use a fork and end up making holes in the meat…hello dry meat. A good spatula allows for easy flipping, whatever you have on the BBQ.
• Tongs – Great for turning sausages over and picking up big bits of meat…a must for efficient barbecuing.
• BBQ grill brush – cleaning the grill plate may not be that fun, but it is a BBQ essential for quick and easy cleaning.
• Awesome apron – if there's one time you can get away with wearing an outlandish apron, it's BBQ season!
10. Don't dig in right away
It may be tempting grab n' go while it's hot, but letting the meat rest for 3-5 minutes allows the juices to settle, making the meat even more tender and delicious.