BBQ Fundraiser for the Suffolk Punch Trust – Sat 28th September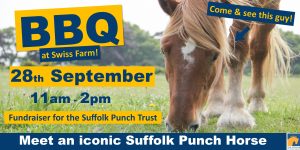 Did you know the iconic Suffolk Punch horse breed is critically endangered? 
Here's how you can help! On September 28th, we at Swiss Farm are holding a fundraiser BBQ for the Suffolk Punch Trust, and we also have a special guest…a magnificent Suffolk Punch horse!
For every burger sold, we are donating all funds made from the BBQ to the Suffolk Punch Trust which will help provide the essential scientific research needed to help protect this iconic horse breed.
You'll be able to:
Meet a Suffolk Punch horse up close
Enjoy our speciality burgers and sausages, as well as pulled pork from Smoky Jones
Adopt a Suffolk Punch horse
Enter our competition to win Swiss Farm vouchers
Receive a Suffolk Punch Trust discounted day pass
Date: Saturday 28th September 2019
Time: 11am – 2pm
Location: Swiss Farm, Ashbocking, IP6 9LF
VIP guest: Suffolk Punch horse
So, bring your family and friends and help protect England's oldest breed of working horse! We'll see you there, and so will a Suffolk Punch!
Swiss Farm's Owner & Son (David & George Ridgway) meeting a Suffolk Punch horse