Beer can chicken with jerk seasoning
If you've never tried beer can chicken on the BBQ, you're in for a treat! The beer makes the chicken amazingly moist and tender, and our jerk seasoning recipe gives a lovely spice and tang to it. Beer it, season it, and stick it on the barbie…it's that simple.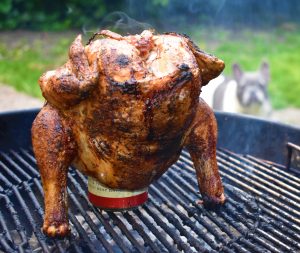 Serves 4
Ingredients
1 English large chicken
2 tbsp olive oil
1 can of your favourite beer
(BBQ with lid)
Jerk spice rub
1 tbsp garlic powder
2 tsp cayenne chilli pepper
2 tsp onion powder
2 tsp dried thyme
2 tsp dried parsley
2 tsp brown sugar
2 tsp sea salt
1 tsp turmeric
1 tsp ground allspice
1 tsp paprika
1/2 tsp black pepper
1/2 tsp ground nutmeg
1/2 tsp chilli powder
1/4 tsp ground cinnamon
Method
1. Pre heat the BBQ to a medium to high heat.
2. Combine spice rub ingredients and mix well.
3. Crack open a beer and leave half remaining in the can (we like to drink it!).
4. Rub oil over the chicken and then rub in spice mix (you won't need all the spice mix, so you can use it again).
5. Place beer can on a solid surface and place chicken on the top.
6. Cook for around 1 ½ hours until chicken is cooked.
7. Enjoy with a cold beer.