Fantastic Gammon Deal & Cooking Tips
Our gammon offers are running all winter! With the same fantastic price even for Christmas!
At just £20! A whole joint of gammon is approximately 5kg,  butchered from our English pigs by our master butchers with a choice of unsmoked and smoked is available.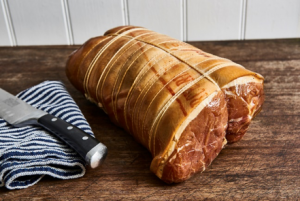 Turning the pork into gammon…
The legs of pork are dry cured, by hand right here at Swiss Farm. This starts the process of turning the pork into gammon. Once fully cured they are then hung, and oak smoked in our own on-site smokehouse for 24 hours. Once finished our gammon is then immediately vacuum sealed for convenience and freshness.
Not a lover of pork? Click here for other great offers.

Portion sizing and cooking times
The main leg will serve up to 20 people! We recommend a cooking time of 20mins per 450g on 180c/350f or gas mark 4.
Top leg just £10 (unsmoked also available).
The same process with the only difference being a smaller and leaner joint, coming from higher up the pig. The top leg is approximately 2.5kg and will serve between 6-8 people. Same cooking times apply , 20 mins per 450g on 180c/350f or gas mark 4.