Marinated pork loin steaks with bacon wrapped asparagus & apple, walnut and cranberry coleslaw
Delicious marinated pork loin steaks, oak smoked bacon wrapped around asparagus, and a side of coleslaw which is tangy, crunchy, and with hints of sweetness. This meal is super quick to whip up, full of amazing flavours, and perfect on the BBQ!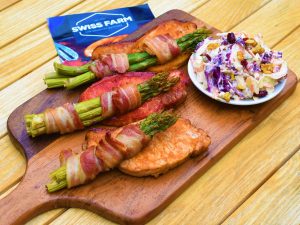 Ingredients
Serves 4
4 marinated pork loin steaks
16 asparagus stalks
8 rashers of our streaky bacon
Apple, walnut & cranberry coleslaw
1/4 green cabbage, shredded
1/4 red cabbage, shredded
1 small carrot, grated
1/2 red onion, finely chopped
1 tablespoon cider vinegar
8 tablespoons mayonnaise
2 tablespoons Greek yoghurt
2 teaspoons yellow mustard
2 tablespoons chopped fresh dill
1 apple, peeled and chopped
1 tablespoon walnuts, chopped
1 tablespoon dried cranberries
1 teaspoon lemon juice
Method
1. Pre heat the BBQ. Wrap two slices of streaky bacon around four asparagus stalks as tight as possible. Repeat for the others.
2. Place pork loin steaks and wrapped asparagus on the grill plate and cook for around 30 minutes until cooked.
3. Whilst the BBQ is going, now is the time to prepare the coleslaw. For this, add cabbage, carrot, onion, apple, cranberries and walnuts in a large bowl and mix.
4. In a separate bowl, combine, mayonnaise, Greek yoghurt, vinegar, mustard, dill, lemon juice and add to cabbage mixture.
5. Season with salt and pepper, serve with the pork and asparagus and enjoy!