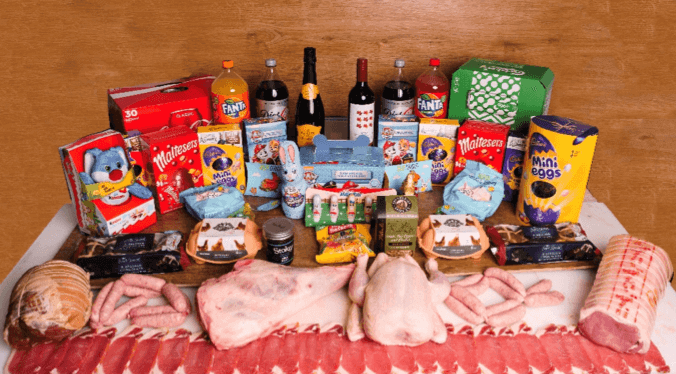 To celebrate the launch of our new shop in Colchester on the 10th March, we're giving away this MASSIVE hamper on our socials.
Packed full of Easter treats, this is our biggest giveaway ever: worth over £200!
When you win your friends win too!
If you are the lucky winner of the hamper, each friend you've tagged wins a £20 voucher too.
Hurry! Last entrance for the giveaway is the 2nd of March.
Join us on social media to find out how to enter:
The hamper contains all of this:
1 of our 2 for £10 English Large whole chickens
1 of our £18 whole legs of lamb, approx. 2kg
1 of our £10 English loin pork joints
20 of our sausages made a Swiss Farm worth £3.99
1kg of our oak smoked back bacon cured and smoked at Swiss Farm worth £5
1 of our £10 gammon joints: oak-smoked and cured at Swiss Farm
Dozen of our extra large free range eggs
Stokes Sauces mint sauce
A stuffing mix
1 bottle of prosecco
1 bottle of wine
20 Carlsberg cans
30 cans of Coca Cola
4x bottles of fizzy
10x Easter eggs
Egg hunt set
5x Easter themed sweets
16 Belgium chocolate hot cross buns
Lindt Bunny & a Smarties Rabbit
NEW COLCHESTER SHOP
Open 7 days a week from the 10th March:
Swiss farm,
Hall road,
Great Bromley,
Essex, CO7 7TR