Mid-Week BBQ Bundle – Offer Closed
*This offer is now closed*
To celebrate national BBQ week (29th May – 4th June), we have a deal that I'm sure none of you will want to miss, and guess what, it's running throughout the entire summer!
If you love your barbecues as much as we do, then come over to Swiss Farm and get everything in the picture below for just £30! This offer is only valid Monday to Thursday, but don't worry we're open until 5:30pm so there's plenty of time to grab the deal!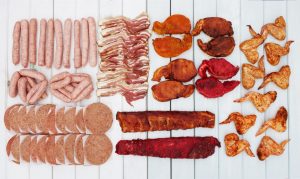 Our mid-week BBQ special includes:
10 jumbo sausages
20 traditional sausages
20 quarter pounder burgers
500g pack of streaky bacon (cured on site)
2 rack of mini ribs (plain or marinated)
8 pork loin steaks (plain or marinated)
10 chicken wings (plain or marinated)
Remember this bundle is available Monday to Thursday only.
Win a free pack worth £30!
Would you like to be in for the chance of winning a pack worth £30? Sign up to our monthly newsletter and you'll be entered into our free monthly prize draw!