Opening day BBQ at our Aldeburgh shop!

April 14th marks the opening day for our new Aldeburgh shop, and to celebrate, we're firing up the BBQ!
So, if you fancy trying some of our favourite BBQ meats and stocking up for Easter, come along! We'd love to see you.
Here's some opening day highlights to look forward to!
8.30am – ribbon cutting and doors open!
11.00am – firing up the BBQ…free sausages and bacon!
We're open until 5.30pm, so come along and see our brand new butcher's shop!
Swiss Farm Aldeburgh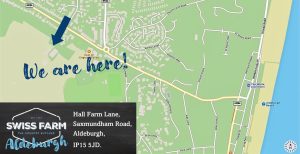 And if you haven't already, be sure to enter our Easter Hamper Giveaway! Entries close Friday 16th April.