Summer guide to burger perfection
Burgers are a summer classic and a must have for any BBQ. Yet, whilst they're so popular, they can also be tricky to get right. In this quick guide, we'll give you our tips and tricks to cooking your burger, as well as our go-to toppings and sides for you to try. So, grab a spatula, chill a few beers down, and fire up the BBQ…it's burger time!
Choosing your burger
We absolutely love burgers at Swiss Farm, and it shows in our range of burgers!
We have our classic 1972 hamburgers which were developed by Dot Ridgway and are perfect if you have a big BBQ coming up. With flavours from around the world, there's a burger for everyone. (20 for £4.99)
Then there's our super steak burger which are made with the finest steak mince around. Hand-crafted and unbelievably tender. (8.99 k/g)
What if one isn't enough? Then you've got to try our new Jumbo burger! Same classic 1972 recipe…just bigger! (10 for £5.99)
And if you like a bit of spice, try our specialty cheese & jalapeño steak burger. Made with our British steak mince and combined with freshly chopped jalapeños and grated cheddar cheese. Delicious. (£8.99 k/kg)
Manning the BBQ
Swiss Farm burgers cook beautifully using many cooking methods. However, as we're in the middle of summer, we're going to focus on the BBQ.
One good thing about cooking a burger on the BBQ is that cooking is quick and easy. Now, before you start, if you have bought cheap burgers which have been frozen and thawed out for sale, you can do all the preparation in the world but don't expect soft and juicy burgers (don't worry we don't do this!). So, here's 6 tips for manning the BBQ:
Tip 1 – Choose your fuel
If you read our previous article '10 tips for BBQ perfection' you'll know we use a charcoal BBQ at Swiss Farm as this adds flavours to the meat.
Tip 2 – BBQ over a high heat
Whether you're using charcoal or gas as your fuel, you'll want to make sure the BBQ is pre-heated to a high heat. This allows you to get that soft texture we all love and prevents the burger from drying out.
Tip 3 – Avoid pressing down with your spatula
We've all done it. You press down to cook quicker and make it sizzle, however this can affect the burgers texture and flavour. When you press down, you lose the juices which are full of flavour and keep the burger soft and tender.
Tip 4 – Use an internal cooking thermometer
Many people will over cook a burger to ensure it is cooked. Unfortunately, this tends to dry out the burger, when in fact, it was likely cooked earlier! The best way to prevent this from happening is checking the internal temperature. If you probe the burger and reach an internal temperature of 72 degrees Celsius, ensures potential bacteria has been killed.
Tip 5 – Flip once and cook for 3-5 minutes a side
The less you flip the burgers, the better. Aim to flip once which ensures an even cook and prevents juices from being lost. Here at Swiss Farm, we sell a variety of burgers, from our quarter-pounders to our new Jumbos. Some are thicker than others which means cooking time will vary. The thicker they are, the more time they will need.
Tip 6 – Let it rest
We know it's tempting to grab the burger and dig in right away, however if you wait for about 5 minutes, you'll let the juices settle and get a ridiculously juicy burger. It's worth the wait.
Get Creative!
So, you've cooked the burger…now it's time to get creative with your toppings and sides! Below are a few of our favourite toppings and sides:
Burger bun – Any roll is good, simply slice in half and if you like it toasted, chuck it on the BBQ before serving. If you don't want a roll, try wrapping in a lettuce leaf or try a sweet potato bun.
Cheese – Cheddar, cottage, Swiss, spicy jalapeño….they're all good.
Bacon – Without doubt, our favourite burger topping! Try our oak smoked and dry cured streaky bacon and back bacon with melted cheese – it's great.
Onion – Sliced red and white, fried, caramelised.
Salad – Iceberg, baby leaf, really any salad works.
Tomato – Vine, sundried – just slice them up.
Sauces – Mayonnaise, ketchup, BBQ sauce, mustard, burger sauce (try our burger sauce in our recipe section of our site).
Sides – Coleslaw (try our traditional, spicy and sweet recipes for this), baked beans (our BBQ cowboy beans recipe is awesome), pickled gherkins, avocado, corn-on-the-cob (try wrapping in bacon), sliced jalapeños, chips, sweet potato chips, fried egg – all excellent choices.
Classic burger recipe
Steak burger, melted cheddar cheese and our oak smoked streaky bacon. Simple and delicious!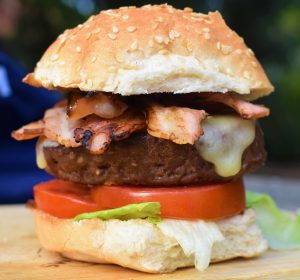 Ingredients 
Makes 1 burger 
Steak burger
2-3 rashers of our streaky bacon
1 slice cheddar cheese
1 tomato, sliced
Handful of lettuce, washed and chopped
1 burger bun
Method 
Pre-heat BBQ on high heat. Cook bacon  and burger in the centre of the BBQ. For the burger, cook for 4-5 minutes on each side. With the last minute, add cheese and let it soften. Remove from BBQ and allow to cool for 5 minutes.
Add remaining topping (and more if you choose) and enjoy!