We're turning 50 soon and we have some MASSIVE news!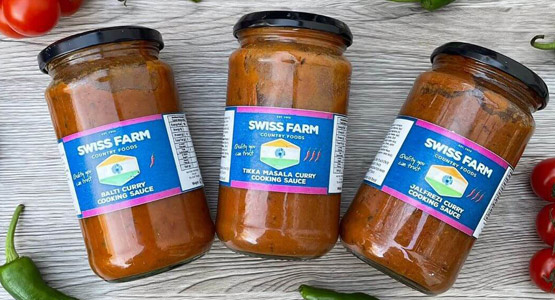 To celebrate our soon-to-be 50th anniversary, we've spent the last 3 years creating what is simply a sensational range of Swiss Farm products. And it's ridiculous! From our brand new and exclusive Ridgway Pig beers and ciders to wholesome chutneys, traditional condiments, mouth-watering marinades, sweet jams, curds, fruity marmalades, and cooking sauces inspired from around the world. It's the perfect accompaniment to our wonderful range of fresh British meat.
Driven by our passion for creating and experimenting with new, exciting flavours, each product has been carefully made in small batches, which like our meat, is packed full of Swiss Farm quality. After many fun, meat-fuelled tastings at the Swiss Farm HQ, we've done it – and we can't wait for you to try our NEW Swiss Farm range!
Inspired by Dot Ridgway's (Swiss Farm's founder) love of all things culinary, our new and exclusive product range exemplifies our 50-year-old ethos, and one practised since we sold our very first pork chop way back in 1972 – traditional family values and quality you can trust.
Get set for a great culinary adventure with Swiss Farm.
See our For the Pantry section for our product range!