3 easy back to school dinners (kids will love!)
It's that time of year again…back to school! With lots going on, we know cooking can be difficult at times. So, here are 3 easy to cook meals the kids will love and help get you back into the swing of things.
Cheesy Enchiladas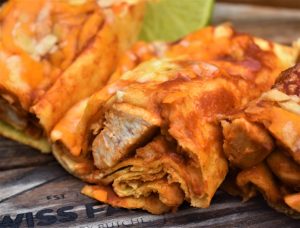 Mild in spice, great flavours and of course lots of cheese! You can use our recipe for the seasoning mix and sauce, or simple buy readymade sauce.
Ingredients
Serves 4
500g diced chicken
4 flour/corn tortillas
60g grated cheddar cheese
60g grated red Leicester cheese
3 tbsp olive oil
For the sauce
3 tbsp flour (all blends work)
1 tbsp chili powder
1 tsp ground cumin
½ tsp garlic powder
¼ tsp dried oregano
¼ tsp salt
¼ tsp black pepper
Pinch of cinnamon
1 can chopped tomatoes
250ml chicken stock
1 tbsp apple cider vinegar
Black pepper, to taste
Method
To make the sauce:
Heat oil in a pan and flour, cooking until light brown.
Add all the spice ingredients and cook for one minute.
Slowly add the tomato sauce, stock and vinegar, stirring to prevent lumps.
Reduce to a simmer for a couple of minutes, and season with salt and pepper to taste.
To make the enchiladas:
Pre heat oven to 200c. Add diced chicken to a pan and cook thoroughly. Add half of the enchilada sauce and a handful of grated cheddar to the pan and stir.
Add mixture to tortillas and place in an oven proof dish. Pour on enchilada sauce and sprinkle with cheese.
Cook in oven for 10-15 minutes until cheese has melted and tortillas are golden brown.
2. Easy cheesy pizza bread
Making a pizza from scratch is great, but if you're short on time or don't want to by takeaway pizza loaded with calories, then give this a go! It couldn't be simpler to cook, and you can add your favourite toppings!
Ingredients
Serves 4
2 large French bread sticks, halved
4-6 tbsp passata
200g lean steak mince
60g Grated mozzarella
Toppings; It's really down to you! Leftover chicken, diced chillies, avocado, spinach, sweetcorn and pineapple are all good!
Method
Pre heat oven to 200c. Add mince to a frying pan and cook until brown.
Cut bread stick in half and spread around 1 tbsp of passata on top. Add cheese and your chosen toppings.
Place in oven and cook for 10 minutes until cheese has melted and bread has started to crisp.
Enjoy!
3. Parmesan Chicken Tenders with honey mustard dipping sauce
Who needs to buy fried takeaway chicken when you can make your own tenders! They're easy to prepare and taste amazing. Grated parmesan, tender chicken and a super tasty honey mustard Sauce made with three ingredients!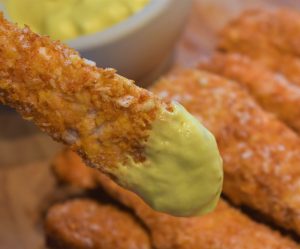 Ingredients
Serves 4
2 large chicken breasts
4 tbsp parmesan, grated
60g panko breadcrumbs
40 golden breadcrumbs
1 tsp paprika
1 garlic clove, minced
½ lemon, juice only
1 large egg
2 tbsp olive oil
Salt and pepper, to taste
For the honey mustard sauce
6 tbsp mayonnaise
2 tsp mustard
2 tsp honey
Method
Pre heat oven to 200c. Line a baking tray with baking sheet, or lightly grease with butter or olive oil.
Cut each chicken breasts into strips (around 4inch ling and 1-1.5 inch thick). Our chicken breasts are large so we're able to get around 5 from each one.
Add breadcrumbs, parmesan, paprika, salt and pepper to a bowl and mix well.
In a separate bowl, add egg, lemon juice, olive oil and whisk together.
For each tender, add to wet mixture and then roll in dry mixture. Cook for 20-30 minutes until thoroughly cooked through, turning over halfway.
Whilst tenders are cooking you can make the dipping sauce. Simple add mayonnaise, mustard and honey together and you're done!