4 delicious bacon marinades
It's hard to think how our classic recipe bacon could be even more fun and tasty to eat, but it can! Just add a few sweet and savoury ingredients into the mix and you've got yourself bacon quite literally bursting with flavour. You can add it to your morning eggs, load it into a sandwich, or stack it up over your morning pancakes. If you love our bacon, you've got to give these quirky marinades a try. Now, usually, we like our bacon to be smoked and then pan fried, but when it comes to adding additional flavours to bacon, choosing unsmoked bacon and cooking it in the oven is our go-to cooking choice. And don't be afraid to experiment with your own recipes also…it's part of the fun!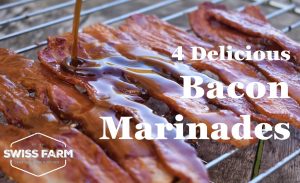 Honey Mustard
A classic flavour combo which pairs perfectly with our classic streaky. There's sweetness from the honey, hints of heat from the mustard, and the wonderful smoky flavour of our oak smoked streaky.
Ingredients
500g streaky bacon
4 tbsp honey, warmed
1 tsp Dijon mustard
1 tsp finely ground black pepper
Method
Pre heat oven to 200 degrees Celsius.
Line a baking tray with parchment paper and place bacon on wire rack above.
In a small microwavable bowl, mix together the warmed honey, mustard and pepper and stir. Heat in the microwave (or add to a small saucepan) for a minute and set aside.
Now, cook bacon for around 20 minutes (until fat has been rendered) and remove from oven.
Pat bacon dry and brush each side with the honey mixture. Cook for another 10 minutes or until preferred level of crispiness!
Ginger Beer
This is the simplest marinade recipe, and possibly the most tasty too! We used real ginger beer (not diet) which gives it that extra flavour boost. To give it an extra twist, half the ginger beer and add your favourite ale.
Ingredients
500 grams streaky or back bacon
1 bottle of ginger beer (330ml)
Method
Place bacon into a bowl and pour in ginger beer.
Cover bowl with clingfilm and place in fridge overnight (or for 4-5 hours).
Once left, remove bacon from fridge and heat a frying pan with oil.
Add bacon to pan and fry until browned.
Remove from pan, gently pat dry and dig in.
Cranberry Bourbon
If you're getting into the Christmas spirit, this bacon marinade is a must. Cranberry, whiskey and bacon? What's not to love! The perfect option for a festive brekky.
Ingredients
500g streaky bacon or back bacon
I tbsp cranberry sauce (smooth)
2 tbsp cranberry juice
2 tbsp orange juice
1 shot of your favourite bourbon
1 tbsp brown sugar
Method
Pre heat oven to 200 degrees Celsius.
In a small bowl, mix together the cranberry sauce, cranberry juice, orange juice, whisky, and sugar until smooth.
In a small saucepan, heat the mixture until the sauce becomes slightly thicker. Set aside.
Place bacon in the over and cook for 20 minutes until fat has rendered.
Now, remove bacon from oven and brush mixture on both sides.
Place bacon into the oven for an extra 10 minutes and serve when level of readiness has been reached.
Sweet maple
This bacon marinade is simple and delicious. It goes great with the big, American fluffy pancakes, yet is equally tasty in a bun or served with a classic English fry up.
Ingredients
500g streaky bacon
3 tbsp maple syrup
1 tbsp brown sugar
Method
Pre heat oven to 200 degrees Celsius.
Combine maple syrup and brown sugar into a bowl and warm (microwave or saucepan is fine).
Lay bacon on wire rack (with parchment paper underneath) and brush bacon with syrup mixture.
Add to the oven and cook for 20-25 minutes. With 5 minutes remaining, remove rack from oven and brush remaining mixture over bacon.
Return to oven and cook until desired level of crispness!