4 Ingredient Lean Chicken Curry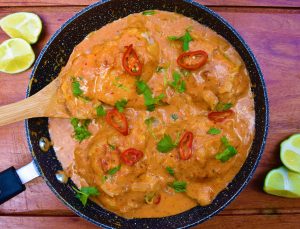 Four ingredients for a delicious curry? You bet! This curry uses our tender chicken thighs, coconut milk, red Thai paste and an onion…and that's it. Packed full of goodness just without all the added calories you'd get from a traditional curry. So, grab a fork and dig in!
Ingredients
Serves 4
4 chicken thighs
1 can (400ml) coconut milk
4 tbsp red Thai paste
1 onion, finely chopped
Optional ingredients
Coriander
Red chilli, sliced
Rice (if you're wanting to keep it low sugar, give cauliflower rice a go)
Method
1.       Pre heat oven to 200c.
2.       Heat a skillet with a splash of olive/coconut oil. Add chopped onion and half Thai paste and cook until onions are soft, trying not to burn them (around 5 min).
3.       Add the chicken thighs and cook topside up for around 3 minutes. Flip thighs over and add coconut milk, then reduce to a simmer.
4.       Add skillet to oven and cook for 15-20 minutes.
5.       Enjoy with your chosen sides!