4-ingredient Sticky Bacon n' Beef BBQ Balls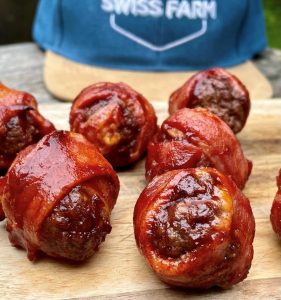 There's no denying it. Everything wrapped in bacon is better! And these mouth-watering Bacon n' Beef BBQ Balls are no exception – they're simply sensational. And even more amazing? They're so easy to make! Made with our famous oak smoked streaky bacon and lean steak mince, these meaty balls have hints of mozzarella and are finished off with a quick smothering of BBQ sauce.
A wonderful BBQ appetiser or fun family meal, they're quick to make, bursting with bacon and beefy goodness, and will be a hit with friends and family this BBQ season. The only problem is will they get any! They're that good.
Great cooked in the oven. Equally delicious sizzled on the barbie. And all made with meat you can trust.
Here's how to make them!
Ingredients
(Makes 16 balls)
500 grams of our lean steak mince
1 pack of our oak smoked streaky bacon (unsmoked streaky bacon works just a well!)
1 handful of your favourite grated cheese (we've gone for mozzarella, but cheddar also works great)
Some BBQ sauce for dipping
And that's it!
Method
Pre-heat oven or BBQ to 200 degrees Celsius.
In a bowl, add steak mince, grated cheese, and a good ol' squirt of BBQ sauce (roughly one tablespoon) and mix well.
Divide mixture into 16 balls. Then, wrap one rasher of streaky bacon around each steak mince ball. (One ball, one rasher of bacon).
Place in oven or BBQ and cook for 20-25 minutes (until mince and bacon is cooked).
With 5 minutes before the end of the cooking time, remove from oven and dip/roll each ball in BBQ sauce covering the whole ball. (A small bowl with BBQ sauce is an easy way to do it).
Place back in the oven and cook for remaining time.
And you're done! Now, try not to eat all of them!
Lean steak mince £8.99kg
1 pack of streaky bacon (approx. 500g) £3