Bacon wrapped chicken strips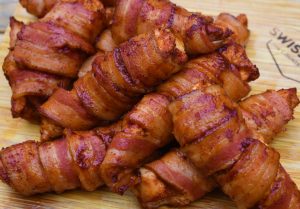 If there's one dish that everyone can enjoy at the dinner table, it's tender chicken wrapped in bacon! It's quick to prepare, a great alternative to deep fried chicken strips, and super tasty.
We've wrapped our dry cured and oak smoked streaky bacon around our large and tender English chicken, and combined these classics with a few spices, a bit of BBQ sauce (but you can use you favourite!), and that's it!
A healthy fun meal the whole family can enjoy…and it's great value too – 2 Swiss Farm chicken fillets and 1 pack of our streaky bacon makes 12 bacon wrapped strips!
Ingredients
Serves 4
2 large Swiss Farm chicken breasts
1 pack of our streaky bacon
4 tbsp of BBQ sauce (or your favourite)
½ tbsp paprika
½ tsp garlic powder
½ tsp onion powder
Salt & pepper to season
Method
1. Pre heat oven to 180c.
2. Cut chicken fillets into 12 small strips.
3. Combine spices in a bowl and sprinkle over chicken.
4. Wrap bacon around fillets (around 2 rashers per strip) and cook in the oven for 30-35 minutes, turning over halfway.
5. Toward the end of the cooking time (5 minutes left) take out fillets, brush with sauce, and return to oven.
6. Serve with more sauce and enjoy!