Beef and Guinness Stew with Bacon Dumplings
If you're looking for hearty stew to keep you warm this autumn and winter, you've got to give this a try. This beef stew with bacon dumplings is packed full of flavour and a meal the whole family will enjoy. Made with our amazing diced beef and classic streaky bacon, this classic dish with a Swiss Farm twist won't disappoint!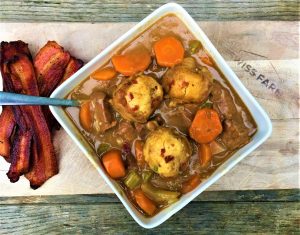 Ingredients
For the stew
2 tbsp olive oil
1kg diced beef
150g shallots, diced
4 carrots, diced
3 celery sticks, diced
3 tbsp plain flour
400ml beef stock
400ml Guinness
1 large thyme sprig
1 star anise
For the dumplings 
1 tbsp olive oil
100g streaky bacon, finely chopped
1 tsp thyme leaves
125g self-raising flour
60g shredded beef suet (we used Atora)
1 egg yolk
Serve with (optional)
Mashed potato
Method
Making the dumpling; Heat oil in a pan and fry diced bacon until brown. Add the thyme leaves, mix together, and add to a bowl.
Now add the suet and flour to the fried bacon and mix well. Make a hole in the middle and add 2 tbsp of cold water, egg yolk and pepper. Mix dough together (it wants to be firm but pliable), and make into 8 balls.
Preheat oven to 160c. Heat oil in casserole dish and brown beef. Remove from dish and now add chopped carrots, shallots and celery to the dish and brown. Once browned, return beef and all the juices back to dish and sift in flour, stirring well.
Now add the beef stock and Guinness to the dish, stirring well. Season with the star anise and a sprig of thyme.
Cover with a lid and place in oven, cooking for around two hours, until beef is nice and tender. Add dumplings to the dish and cook for another 20 minutes. Finally, remove lid and cook for a further 10 minutes until dumplings have browned.
Enjoy!