Cheese & jalapeño steak burger salad with burger sauce
Made with our speciality cheese & jalapeño steak burger, this salad is perfect for a quick lunch or dinner and packed full of amazing flavour combinations. It's simple to whip up and even works if you have a left-over burger from last night's BBQ! And topped with this spicy salad is our go-to burger sauce recipe – it's good as a burger sauce or salad dressing!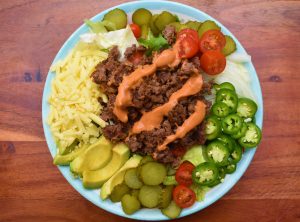 Ingredients
Makes 1 salad
1 cheese & jalapeño steak burger
1-2 handfuls of your favourite salad (we used baby leaf)
5-6 vine tomatoes, halved
1 green jalapeño, sliced (if you don't want it too spicy, just remove the seeds!)
½ avocado
2 pickled gherkins, sliced
1 handful of cheddar cheese, grated
For our burger sauce
Serves 4
1 heaped tbsp mayonnaise
1 tbsp tomato purée
1 tsp yellow mustard
½ tsp vinegar from pickled gherkins
Sea salt and pepper to season
Method
1.       To cook the burger, pre heat the BBQ or you can simply fry it. No need to overcook it as you don't want to dry it out.
2.       Now the fun part – once burger is cooked, grab the spatula you cooked it with (or a fork) and smash it up!
3.       To make the sauce, simply put all the ingredients in a bowl and mix together.
4.       Add smashed burger to salad and top with sauce and grated cheese – enjoy.