Cranberry, Beef & Bacon Christmas Balls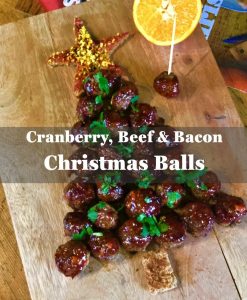 If you're looking for a quick and delicious festive appetiser to make this Christmas, give these a try! Made with our lean steak mince and our classic streaky bacon, these Christmas balls are easy to whip up and can be enjoyed by all.
Ingredients
(Makes around 30 balls)
500g steak mince
2-3 slices of streak bacon, finely diced
1 large egg
1 tbsp breadcrumbs
1 handful grated cheddar
3 tbsp cranberry sauce
1 tbsp BBQ sauce
1 tbsp orange juice
Salt and pepper to taste
Orange zest, grated
(If you want an extra Christmas twist, add a shot of port into the sauce!)
Method
Pre heat the oven to 200c. In a large mixing bowl, combine steak mince, bacon, breadcrumbs, cheddar and season with salt and pepper. Mix well and form into small balls.
In a separate bowl, mix the cranberry sauce, BBQ sauce, orange juice and mix together. Brush the balls with the sauce and place in oven, cooking for around 20 minutes until brown and cooked through.
Remove from the oven and brush the balls again with the sauce. Garnish with grated orange zest and serve with the remaining sauce to dip in.
Enjoy with a festive beverage and dig in.