Easy baked gammon with sticky marmalade glaze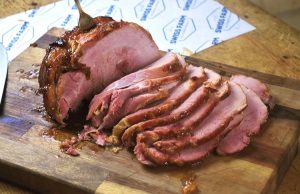 If you've never tried baking gammon before or are simply unsure of the best way to cook it, you're going to love this recipe! With two ingredients, this gammon recipe isn't only great value (this gammon joint only costs £10!), but it's also wonderfully easy to prepare.
There's fruity notes from the marmalade glaze, subtle hints of saltiness from the pork, and the result? A cooked ham which is wonderfully succulent, fall-apart-tender, and so moreish, you won't be able to resist taking little nibbles as you slice it!
The Gammon
Aside from being tremendous value, one thing that separates our gammons from the rest is its preparation. Dry cured using Dot Ridgway's (the founder of Swiss Farm), classic 1972 recipe, each of our smoked gammon joints are 100% British, carefully hand prepared by our master butchers at Swiss Farm, and slowly oak smoked in our very own smoke house.
The recipe!
Firstly, you do NOT need to soak this gammon! All you need is a roasting tin, some aluminium foil, a jar of marmalade, and one of our smoked gammon joints (you can use unsmoked if you prefer!).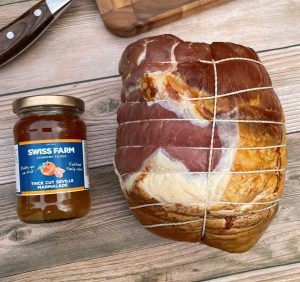 Ingredients
Feeds four people
Smoked gammon joint (2-2.5kg)
One jar of marmalade
Side ideas
There are so many great ways to enjoy gammon; you can have it with eggs, serve with crispy roasts, add some veg of your choosing, or simple drizzle with a homemade port sauce. Whatever you fancy, you can't go wrong!
Method
Pre-heat oven to 180 degrees Celsius.
Place gammon in roasting tin and cover with aluminium foil.
Place in the oven and cook for approximately 4 hours. If you're using a bigger joint, a guide is to allow 30 minutes per 450g (1lbs).
At 30 minutes before the end, remove the rind, spoon the whole jar of marmalade over the gammon, cover with foil, and return to the oven for the remaining time.
Once cooked, allow the gammon to rest for 15 minutes, then slice and enjoy!
2-2.5kg smoked and unsmoked gammon joint £10
4kg smoked and unsmoked gammon joint £20
Available at both our Ashbocking and Gt Bromley country butcheries