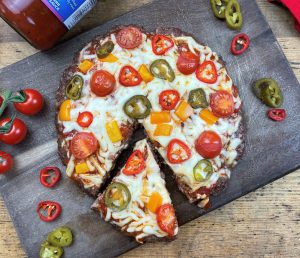 If you're on a New Year's health-kick, or just fancy a pizza without the carbs, calories and vegetable oils, you're going to love this meaty pizza recipe! Made using our lean steak mince and our new, small-batch Italian cooking sauce, this meat-based pizza is low in carbohydrates, high in protein and packed full of wonderful flavours. Best of all, however, is it's super versatile and easy to make!
We've used our famously tasty, lean steak mince as the pizza's base, but you can also use minced turkey or chicken – each meat works great. And for toppings? Well, the options are endless! Try shredded chicken, pulled pork, left-over steak (if there is such a thing!) or sizzling one of our many speciality sausages!
Here's what you need to make one large pizza (or 4 smaller ones):
For the meat base:
500g lean steak mince (or minced meat of your choice)
1 large egg
1 minced garlic clove (optional)
Salt and pepper (to season)
1 teaspoon of dried oregano (if you want that Italian flavour)
For the toppings:
1 jar of our Swiss Farm Italian cooking sauce
A handful of shredded mozzarella
Sliced tomatoes (optional)
And for more meaty toppings pulled chicken, pork, diced beef and sausages all work great!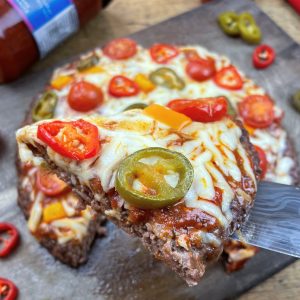 Method
Pre-heat oven to 200c.
Add mince to bowl and crack one egg on top. Mix well. Now add the garlic and oregano (if desired), season with salt and pepper, and mix again.
Now, roll (or press) the mince mixture into a pizza shape to about a 2cm thickness. Place on an oven tray and cook for 15 minutes, turning the pizza base over halfway.
Remove from the oven, pat dry, then add 4-5 tables spoons of our Italian sauce followed by the mozzarella and chosen toppings.
Place back in the oven and cook for another 10 min (until mince is cooked and toppings are beginning to crisp).
Enjoy!
Lean British Steak Mince £8.99kg
Italian cooking sauces (jar) £3.50
We'd love to see your pizza (and all culinary) creations! Take a snap and tag us on our Facebook and Instagram pages! You can find us @swiss_farm