Can you get crispy wings without frying them? You bet you can! And combined with our easy to make buffalo sauce, these chicken wings taste great and eat great! Now, if you already have a bottle of buffalo sauce, that's great. But if you don't, hot sauce a few extra ingredients can make a great buffalo sauce too! Grab a bucket, get a cold beer and enjoy!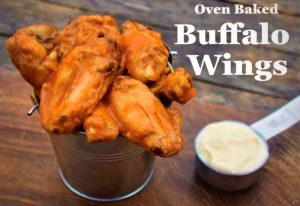 Ingredients
Serves 4
For the chicken wings
3lbs chicken wings (wingtips cut off and cut into drumettes and flats/wingette)
1 tablespoon of baking powder (this is what helps get them crispy!)
2 teaspoons of garlic powder
1 tsp paprika
1 tsp salt
½ tsp black pepper
For buffalo sauce
150 ml hot sauce/buffalo sauce
1 tablespoon butter (melted)
1 tablespoon honey
Sides
Try dipping in a ranch dressing and serve with plenty of cold beer!
Method
1. Pre heat oven to 220°C. Line an oven tray with aluminium foil and place a wire rack inside (or above it when in the oven) and set aside.
2. Place the wings in a large bowl (with the wingtips cut off) and pat them dry. (don't throw the tips away as you can use these for a delicious stock the next day!)
3. In a separate small bowl, combine the baking powder, garlic powder, paprika, salt and pepper and mix well. Now sprinkle the dry mixture over the wings and make sure they are coated all over.
4. Place wings on the wire rack and bake for 30 minutes (until they are nice and golden in colour and desired crispness).
5. Whilst the wings are cooking now is the time to prepare the sauce. Add the hot sauce, butter, honey and whisk together. If you want a thinner sauce, just add a dash of water.
6. Once wings are cooked, cover in sauce and enjoy with a cold beer!