Sweet n' smoky strawberry sliders
It's that time of year again…Wimbledon! That means lots of strawberries, cream and of course tennis!
So why not get in the spirit and try this delicious Swiss Farm twist on these classic flavour combos! Handmade beef sliders which are sweet, smoky and whole lot of fun to eat and make! Perfect if you're having a big gathering or looking for fun meal to enjoy this summer.
If you know Swiss Farm, you'll know we don't do things small…apart from these sliders obviously!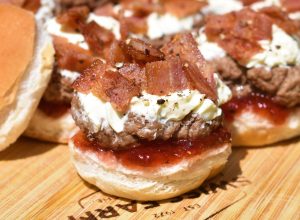 Ingredients
Makes 8 sliders
400g lean steak mince
120g cream cheese
4 slices of our streaky bacon, chopped
4 hotdog rolls, halved
Salt and pepper to season
4 tbsp strawberry jam
Method
1.       Pre heat the grill to a medium heat (or frying pan if you want to cook them quickly).
2.       Combine mince in a large bowl and season with salt and pepper. Mix and form into 8 small burgers, around 2 inches wide. Cook burgers, bacon and set aside for 5 minutes.
3.       Once slightly cooled, half the hotdog rolls so you have two small slider rolls (if you want them circular you can trim them!) and spread bottom layer with jam.
4.       Add burger on top, spread with cream cheese and top with chopped bacon.
5.       Enjoy with a cold Pimm's…which is what we did!