A quick guide: Defrosting meat
If you're a bulk buyer of Swiss Farm meat, you'll know that special feeling of having a freezer full of amazing meat, which is readily available for you to enjoy whenever you want. But we realise it can be a little confusing knowing what to do with your frozen meat and what is the best way to defrost it.
So, here's a quick guide with advice from our butchery and industry experts on the best methods to safely store and defrost your Swiss Farm meat.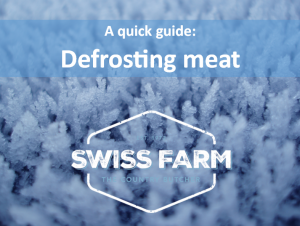 The Safest way
Defrosting meat in the fridge is the safest method according to the Food Standards Agency (FSA). Large cuts of meat, or whole birds (like a chicken), generally take a whole day to defrost safely. Accordingly, a generally rule is to allow 10 – 12 hours per kilogram of meat.
Why's it important?
Defrosting meat thoroughly is essential as it prevents an uneven cook. For instance, if defrosted incorrectly, the outside of the meat might be cooked, but the inside might still be frozen, and thus potentially containing bacteria. Luckily, defrosting is very easy, and is a proven method to prepare frozen meat.
Plan ahead!
Planning what and when you want to defrost is a good idea as it allows you to prepare space in the fridge and allows you enough time to fully defrost the meat. So, here's how to do it:
1. Calculate defrosting time and prepare space in fridge.
2. Place meat on a tray at the bottom of the fridge (the tray will catch any juices).
3. Once thoroughly deforested, aim to cook within 24 hrs!
Defrosting meat without the fridge
If you don't have space, or cannot use the fridge to defrost your meat, then you can use cold water – just know the defrosting rules are a bit different.
Using cold water to defrost meat is a quicker option, and involves putting the meat in a container and placing it under cold running water. Cold water speeds up the defrosting process without increasing the meats outside temperature. All raw meat (including whole birds) should be sealed in a container when placed under running water to prevent contamination
So how long does it take in colder water?
According to the FSA, one pound of meat can defrost within an hour by using this method.
Why we don't sell frozen meat
Unlike various butchers, our policy at Swiss Farm is to provide you with the freshest meat you can buy. Not only will it be fresh, it will allow you to keep it in the fridge and cook it, or freeze it and have it at your convenience. What some establishments will do is buy in frozen meat and defrost it for sale, which can dramatically increase the bacteria potential (this is especially the case for cheap burgers!).
So, even if you don't shop with us, make sure you ask your butcher if their meat has been frozen and thawed out! If so, think twice before freezing it yourself.