How do you like your steak?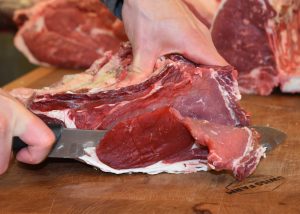 Everyone has their favourite way of cooking a steak, from gilling to pan-roasting, and they all work great. But if you're unsure or fancy trying a new way to cook steak, here's a quick look at some of the most popular methods. Starting with the first way (and our favourite way!)…flame grilled on the BBQ.
1. Flamed grilled on the BBQ
Any chance we get at Swiss Farm to enjoy some steak, we'll grill it on the barbie – and there's a few reasons for it. Barbecuing makes the steak amazingly tender and gives it an incredible taste.
Why we love to grill it
• Amazing flavour and texture – when you grill a steak, you don't use any oils to cook it in. Instead, the steak's natural fats and juices give the steak a great flavour, whilst also making it incredibly tender.
• Smoky delight – if you read our previous article (10 tips for BBQ perfection) you'll know we use charcoal when barbecuing as it gives the meat a lovely hint of smokiness. And, boy, does it work well with steak.
• Grilling itself is an experience – There's something quite special about flame grilling a steak (or anything for that matter). Family and friends can gather around, you get amazing aromas for the steak cooking, and it's also a true classic method enjoyed for years.
• Easy and convenient – Fire up the grill, season the steak and chuck it on…it's that simple! Plus, you can cook more steak at once!
2. Sous Vide
Sous vide might sound quite fancy (and therefore difficult), but in fact, it couldn't be simpler. You simply vacuum seal the steak, cook it in temperature-controlled water, and finish off with a quick sear at the end.
Why sous vide is popular
• No guess work – because the steak is cooked to the exact water's temperature, it's almost impossible to overcook as the temperature is pre-set.
• Set and forget – compared to most cooking methods, sous vide involves placing the steak in the water, setting the temperature, which then gives you the freedom to walk away without turning the steak over.
• Retains more nutrients – cooking in a vacuum bag essentially leads to a marinating effect. The bag keeps in all the natural juices and retains more vitamins and minerals from the steak.
• No need to defrost – if you buy steak to freeze, this method allows you to skip the defrosting stage as the steaks can go straight into the water bath.
3. Sear-Roasting
Sear-roasting involves searing the steak in a cast iron grill at a piping hot temperature, and then transferring the steak to a low temperature oven to finish cooking.
A closer look at sear-roasting
• No fancy equipment – All you need is a good cast-iron skillet and an oven. Simple and effective.
• Crisp outside – searing at an incredibly high heat gives the steak a crispy outside, but also a tender centre for the slow oven cook.
• You'll need butter or oil – to sear the steak, you will need either butter or oil as the steak will easily stick if seared without.
• Not as precise – Compared to grilling or sous vide, searing and roasting is less accurate as searing is judgment based versus controlled temperature cooking.
4. Broiling
Broiling is a cooking method very similar to grilling, except that the direct dry heat comes from above the steak, instead to below. Both methods achieve a similar texture to the steak, however there are differences to how this is achieved.
A bit about broiling
• Indoor cooking – broiling is an indoor cooking method, which uses direct heat from the oven. A great alterative to grilling if the either is cold or raining.
• Be sure to trim the fat – if you want to avoid smoking out the kitchen, make sure most of the fat is trimmed as this is what causes the smoke. Not ideal if you like the fat…
• Gives a charred & caramelised effect – much like grilling, the direct heat gives the steak a slight charred effect which add to the steak's already great flavour.
• Broiling suits certain cuts – for best results, choose steak cuts which are typically flat and with an even thickness – strip steak, ribeye steak and tenderloin work great!
5. Good ol' pan fry
Our go to method (if we've run out of charcoal from barbecuing!) is pan frying. It's quick, easy, and perfect for those who love the taste of butter or olive oil (which we do too). Pan frying achieves a great texture and taste, just make sure you get the temperature right.
Pan frying 101•
• Great if you're in a rush – it couldn't be more simple…heat a pan with oil or butter, sear it, and cook it. Quick and easy.
• Going from searing to warming – One of the tricky parts about pan frying is reducing the heat from searing heat to a gentle heat. It's easy to overcook, especially if you like your steak medium or rare.
• Don't forget the juices – if you like an egg with your steak, try frying the egg in the leftover juices…the egg can then go right on top of the steak.
• Add more ingredients to the pan – After you've seared the steak, try adding a diced onion to the pan. The onion will cook with the steak and makes an excellent side.