The ultimate guide to Steak
Here at Swiss Farm, we're passionate about steak – big time. We love it. But if you don't know much about steak, it can be quite tricky trying to choose between the different cuts. "Sirloin", "Ribeye", "Tomahawk", "T-bone", "Côte de boeuf", they're all steaks you've undoubtedly heard of (and seen displayed at our country butcheries), however you might have also thought at some point "well, they all look lovely….but which one do I go for?". This guide will help you with just that.
Below is a brief look at some of our most popular steaks; you'll learn what makes them different, why you might want one versus the other, and you'll probably come away wanting to try each one!
With Valentine's Day approaching and the glorious BBQ season coming ever closer, this might just be the most important guide you will ever read. Ok, that might be a slight exaggeration, but it's not if you love steak like we do at Swiss Farm!
Welcome to the world of steak…
Ribeye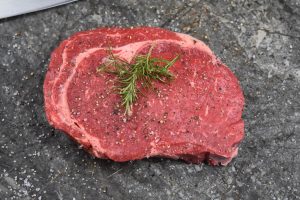 One of our most popular steaks, ribeye is a cut as tender as it is tasty. Taken from the forerib, this succulent steak is jam-packed with wonderful flavours thanks to its rich marbling, and soft, tender meat. Essentially, when you cook this steak, the marbling (also known as fat) renders leaving you with a juicy, melt-in-your-mouth steak bursting with beefy goodness. It's a favourite for a reason. (Ribeye steak £22.99kg)
Sirloin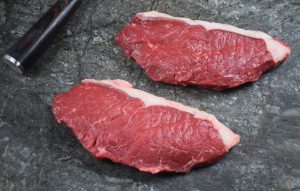 Coming from the middle of the back, the ever-increasingly popular sirloin steak has a terrific combination of tenderness and succulence. With a richer beef flavour compared to rib-eye, sirloin steak isn't as tender, but it's not far off, and having a lovely layer of marbling makes this super tasty cut a great option when pairing with sauces including peppercorn, chilli and onion. If you're looking for a great all-rounder, you can't go wrong with sirloin. (Sirloin steak £19.99kg)
Fillet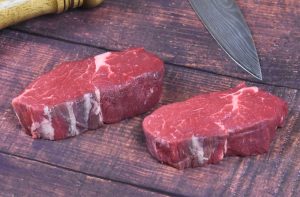 Arguably the most tender steak money can buy, fillet steak (also known as 'fillet mignon') is a true culinary delight. Cut from the thin end of the tenderloin, this round-shaped steak is amazingly succulent and also very lean. With little fat, fillet steak has milder flavour profile compared to ribeye and sirloin, but it sports a delightful array of beefy notes. It's a pricier cut, but it's one worth every penny if you love a top-quality steak. For those looking to cook a special steak meal for two, this cut is for you. (Fillet steak £41.99kg)
Rump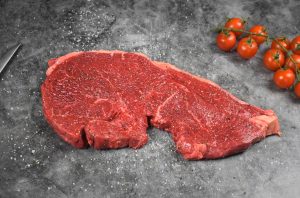 If you're after a tasty steak at great value, rump steak might just be the perfect option. As you might've guessed from the name, rump is cut from the backside of the animal – and it's a section which does a lot of work. Because of that, it's not as tender as ribeye, sirloin or fillet, yet with a terrific beef flavour, and less price per Kg, it's a steak certainly worth considering if you want value, flavour, and a good hunk of steak to enjoy. Ideal for quick stir-fry dishes, braising and barbecuing. (Rump steak £14.99kg)
*Cooking tip
Remove from fridge an hour before cooking – this allows the meat to settle ensuring an even cook. And if you are planning on serving whole? Then try marinating with olive oil, sea salt and pepper before cooking, and slicing thinly once cooked – it's a great way to enjoy rump.
Chuck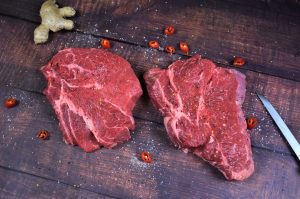 Whilst some of the finest steaks are taken from around the rib and loin, chuck steak is taken from around the shoulder. Because of this, chuck steak is a slightly firmer steak, but one that makes up for with it's beefy flavour and all round deliciousness. Typically used for slow cooking, chuck is ideal for hearty beef stews, braised beef dishes, or if you just want a juicy steak to chuck on the grill! (Chuck steak £9.99kg)
T-bone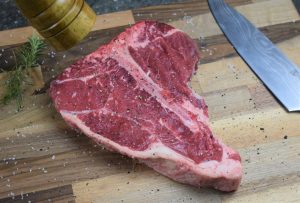 A steak many call 'the King of all steaks', T-bone steaks are simply exquisite. Named because of the 'T' shaped bone, on one side of the 'T' is a wonderful, rich sirloin steak, and the other side, a tender, lean fillet steak. Now, we at Swiss Farm have rather big appetites (especially for steak) which means sharing a T-bone is not always an option! But you certainly can – you just need to decide who's getting the sirloin and who's getting the fillet! Perfect pan-fried, grilled, and our favourite cooking method, thrown on the barbie. (T-bone steak approx. between £15-19 each)
Côte de boeuf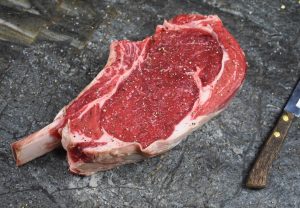 There's something quite delightful about having a bone-in steak – and it's not just visual as the bone adds wonderful flavours into the meat. For bone-in steaks, one of our favourites is Côte de boeuf – 'aka' bone-in ribeye. Like a traditional ribeye, Côte de boeuf is taken from the forerib of the animal and has all the amazing flavour and textural properties ribeye is famous for. The only difference? The bone. If you want a steak unrivalled for flavour and succulence, Côte de boeuf is the steak for you. (Côte de boeuf £15 each)
Tomahawk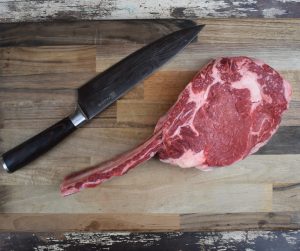 Last but certainly not least, we have the mighty tomahawk – and it might just be one of the most visually striking steaks money can buy – it's a beast. With a hefty chunk of ribeye on one end of the bone, it's a steak rich in flavour, wonderfully tender, and perfect if you've got a big appetite. However, our tomahawks can also feed a small family making them a fun and delicious option for a big family steak night! Now, because of their thickness and size, these aren't steaks one typically would sear and that's it. These are steaks which cook to perfection on the grill or over hot coals on the BBQ. (Tomahawk steaks £15 each)
All our steaks are 100% British, locally sourced, hand-prepared by our master butchers, great value, and always fresh.