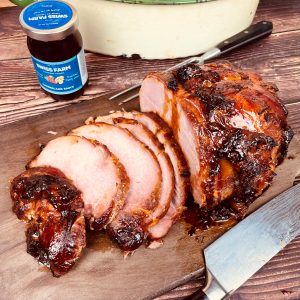 With Christmas fast approaching, why not get in the festive spirit and roast one of our succulent, oak smoked Gammon joints!
Dry cured using our trusted, original 1972 recipe, each gammon is 100% British, freshly prepared at Swiss Farm and bursting with festive flavour.
There's no need to soak this gammon, all you need is a jar of our new, Clear English honey (or one of our small batch, fruity marmalades), some aluminium foil, a roasting tin – and if you want a sweet sauce to pair with, try our new Cumberland sauce with a dash of port! It's a flavour combo so good, it's ridiculous.
For this easy recipe, we used our £10 Smoked Gammon joint (approx. 2kg).
Here's how to cook Honey Glazed Gammon:
Pre-heat oven to 180c.
Pat gammon dry, place in roasting tin, cover with aluminium foil and cook for approx. 4 hours.
20 minutes before cooking time finishes, take gammon from the oven and carefully remove the skin/rind leaving the fat.
Now, smother the gammon with honey, covering all over, and place back inside the oven.
Once cooked, let the gammon rest for 5-10 minutes, slice up and enjoy! For more festive flavours, try cooking up some of our Cranberry & Orange sausages.
Smoked Gammon joint (approx. 2kg) £10
Clear English Honey £6
Cranberry & Orange sausages 20 for £5.99