It's official – we're 50!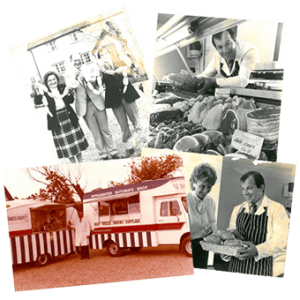 2022 marks 50 years since Dot Ridgway founded Swiss Farm back in 1972, and we want to say a huge thank you for your support over the years!
Selling just two pork chops on her first day, Dot's passion for butchery was profound, as was her love for all her customers. They're values which haven't changed. With her son, David Ridgway, taking over the business in 1989, we now have retail outlets in Ashbocking (near Ipswich) and Gt Bromley (near Colchester), as well as a massive new range of Swiss Farm products in celebration of the big five-o!
With our new range of Pig beers, Pig ciders, cooking sauces, chutneys, condiments (and more!), each pantry product is made in small batches and based on Dot's core beliefs when starting Swiss Farm – traditional family values and quality you can trust.
Packed with new, exciting flavours, each of our small-batch pantry products pair perfectly with our 40-foot display of fresh meat including our famously tasty pork bangers, meaty hamburgers, dry-cured gammons and our hugely popular back and streaky bacon – Swiss Farm classics enjoyed for 50 years.