Pork belly – a quick look at a sensational cut
What's pork belly, and why's it so good?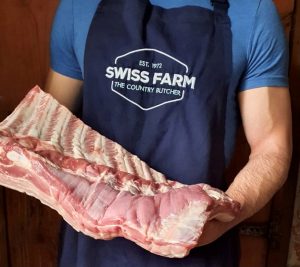 As you might have guessed, pork belly is a cut taken from the belly of the pig – and that means it's incredibly flavourful. With a high (and thus delicious) fat content, pork belly has everything one looks for when it comes to meat; it's easy to prepare, it's wonderfully flavourful, and with a combination of crunchy skin and fall-apart-tender meat once cooked, it becomes even more delightful. Being locally sourced, hand-prepared by our master butchers, and beautifully fresh, our pork bellies are also affordable, just adding to its appeal. It's also where thick, juicy, fall-off-the-bone meaty spareribs are taken from – we needn't say more!
Cooking ideas
Being a delicious, fattier cut, pork belly favours slow cooking methods. Why? Because slow cooking allows the flavourful fat to render down, which over time, becomes absorbed into the meat leaving you with melt-in-your-mouth-tender meat. It's delightful. Indeed, one of our favourite ways to cook whole bellies of pork is to slow roast it in the oven. And the reason is exquisite – you get crispy crackling on the top, and moist, tender meat underneath. The contrast is awesome. However, that's not the only way to enjoy pork belly. With a bit of prep, you can braise it, stew it, you can whack it on the BBQ, and if you're feeling ambitious, you can also sous vide pork belly too.
Typically, pork belly is enjoyed in two ways – cooked whole or cooked in slices. Either way is delicious. If you're cooking pork belly in slices, you can braise and slow roast them in the oven. Or, you can do one of our favourite methods and chuck some marinated spareribs on the BBQ (we have a wide selection of marinades from around the world to choose from). Now, if you're cooking a whole pork belly, we recommend slow cooking it – and it's not because the meat is tough. It's simply because of the wonderful fat.
For an easy, slow roasting recipe for a whole pork belly, here's one to try:
Ingredients
1 pork belly approx. 3kg (if you want a smaller slab, we'll happily cut the belly to your request).
Olive oil (to drizzle)
Sea salt (to season)
Black pepper (to season)
A handful of fennel seeds
Sprigs of rosemary, thyme or sage
A selection of your chosen veg
Method
Preheat an oven to 220 degrees Celsius.
Place sprigs into the scored fat (we'll have pre-scored it for you).
With kitchen paper, pat the belly's surface dry and place on top of chopped veg (the veg is optional but can help with making a tasty gravy).
Add belly to roasting tin, drizzle with olive oil, rubbing all over, and season generously with salt and pepper. If you like the flavour of fennel seeds, sprinkle them on too.
Place belly in the oven and cook for 30 – 40 minutes (until the skin has become crispy). Once crispy, remove from the oven, reduce oven's temperature to 160 degrees Celsius, and roast for a further 2-3 hours (at 2 hours it will be cooked and tender, and at 3 hours, even more so).
Once cooked, remove the belly from the oven. And now the important part – let it rest! To keep it warm, place a sheet of aluminium foil over it and rest for around 15 minutes. This will allow all the delicious juices to work its way down into the meat.
All you have to do now is carve and enjoy!
It's the Swiss Farm way
Now, here at Swiss Farm, the quality of our meat and our customer satisfaction is of the upmost importance to us. That means all our pork is locally sourced, 100% British, and beautifully fresh. And that itself is important. Some establishments for instance might sell less-fresh pork, thus compromising the meats flavour and texture – and it's easy to tell if that's the case. Beautifully fresh means the fat on pork bellies will have a white, creamy colour versus a greyish, dark-yellow colour – and that's how we like it; fresh and British.
100% British pork belly £5.48kg (whole pork belly approx. 3kg)
Plain spareribs £6.49kg
Marinated spareribs £6.99kg