Your Guide to the Perfect Christmas Dinner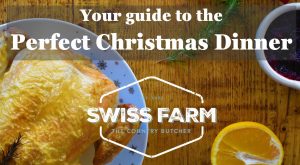 We know it can be daunting getting ready to cook a big Christmas meal, but fear not! Our Christmas guide has everything you'll need to ensure your big meal is a big success!
So, you've got the turkey, chosen your favourite trimmings and now it's time to cook!
Traditional Christmas Turkey
For many, the main centrepiece of the dinner will be a traditional roast turkey. However, if you have never cooked one before (or have and it didn't go to plan!) here's a few tips and timings to ensure a tender and succulent bird.
Remove from the fridge and pre heat the oven
The first thing to do is remove the turkey from the fridge 30 minutes before cooking. This will reduce the turkey shrinking when placed in a hot oven. Now pre-heat the oven to 180c/350f, 20 minutes before cooking the turkey.
Big tin for a big bird
To cook the turkey, you're going to need a roasting tin that can fit the bird and has space to catch all the juices!
Getting it ready
Place a selection of chopped vegetables and onions on the bottom of the roasting tin and place the turkey on top, covering loosely with tin foil. The vegetables and all the juices from the turkey will help make a delicious gravy!
It's all about timing
Cooking a succulent turkey is all about timing, so make sure you know what size you ordered as this will guide you on the cooking time. Here's some recommended cooking times based on turkey sizes:
5-6kg cook for 2½ to 3 hrs
6-7kg cook for 3 hours to 3½ hrs
7-8kg cook for 3½ to 4 hrs
Getting it nicely browned
A lovely browned turkey doesn't mean it has to be over cooked and dried out! Simply remove the foil an hour before cooking which will give it that lovely colour.
Make sure it's cooked and let it rest
Before removing the turkey from the oven, make sure it's cooked to an internal temperature of 70c. Piercing the thigh and seeing clear juices run out is a good sign it is cooked. Once cooked, carefully remove the turkey from the tin, place on board and cover with tin foil. Let the turkey rest for at least 30 minutes to allow juices to settle.
Roast Beef Joints
If you've chosen to go with roast beef on Christmas, that's also a great choice! For rolled sirloin or topside beef, here's how we go about ensuring these delicious joints are cooked to tender perfection.
Preparation is key
We recommend taking the joint out of the fridge at least 30 minutes before cooking as this will allow the joint to reach room temperature and get a lovely even cook. At this time, it's also a good idea to pre heat the oven to around 200c (you'll turn it down later!).
Season with the fat on!
If you want a tender joint, make sure you keep the fat on! Not only does it keep it moist, it adds amazing flavour. Plus, if you don't want to eat the fat, simply remove after cooking. To further enhance the amazing flavour, rub the joint with olive oil, salt and pepper before cooking.
Cooking
For large roasting joints, cook the joints on a high heat (220c) for 20 minutes which will help the heat penetrate the meat and will also give a nice crust on the outside. After 20 minutes, reduce the heat (a good way of doing this is opening the oven door) to around 180c. Here's a rough cooking guide:
Medium/rare 20 mins per 500g
Medium 25 mins per 500g
Well done 30 mins per 500g
Make sure to rest it
As with the turkey, resting the beef joint after cooking is important to ensure the meat is nice and tender. 20 minutes of rest will allow all the juices to settle, but we go for 30 minutes! To keep it warm, cover with tin foil. Easy.
Roast Pork
Whether you've gone for traditional smoked gammon or loin of pork for Christmas, one thing is for sure, you'll be pleased you did!
Getting the perfect cracking
If you chose loin of pork, you're in for a treat with the crackling! To ensure great crackling, pat the joint dry and then rub olive oil, sea salt and lemon juice into the rind. For an extra twist, try adding some fresh sage between the scores.
The perfect glaze
For those who went with the traditional smoked gammon, now's the time to get glazing! We love a honey mustard glaze. Simply mix 4 tbsp of honey and 4 tbsp of mustard together for a simple and delicious glaze.
Cooking pork
For loin of pork, we recommend cooking for 35 minutes per 450g on 150c. If you're after the crackling, do not cover the joint whilst cooking otherwise you'll be left with soft and soggy crackling.
For gammon joints, the best way to cook is on 180c for 20 minutes per 450g. Gammon is typically ready when the fat is golden brown, but the best way is to use an internal cooking meat thermometer.
Christmas Trimmings
Our range of festive trimmings are super easy to cook and taste even better!
Chipolatas, Pork Bangers & Pigs in Blankets
The key to cooking these delicious pork trimmings is not over cooking them (which is easily done!). Place them in a roasting dish and cook at 180c for around 30 minutes, turning over halfway. If you like your bacon crispy, simply cook for another 5 minutes until desired readiness.
Making the stuffing
One of the best bits about stuffing is the delicious sausage meat which is one of our classic 1972 recipes we still use. To make an easy stuffing, mix your favourite ready-made stuffing mix with a tube of sausage meat and cook for around 45 minutes at 180c.
If you're feeling adventurous, you can make your own stuffing! Just make sure you leave enough time to prepare it!
A festive appetiser & main sides
If you've ordered our new 2019 festive additions, you're in for a treat. Our Christmas cocktail sausages and stuffed bacon balls can be enjoyed are a festive appetiser or as a main side!
Christmas Veg & Yorkshires Puds
No roast is complete without a selection of Christmas roasted vegetables. Crunchy roast potatoes, crispy parsnips, sweet roasted carrots and fluffy Yorkshire puddings!
Yorkshire puddings
Once you know how to make Yorkshire puddings from scratch, you'll make them all the time. The key is getting the oil piping hot. Check out our foolproof Yorkshire Pudding recipe.
These won't take long so plan toward the end of the cooking process.
Potatoes, Parsnips & Carrots
To keep things simple, we like to cook them all together. Simply peel, chop and boil for around 10 minutes until soft in the centre. Once boiled, place on a baking tray and drizzle with olive oil, salt and a few sprigs of rosemary. If you like crispy potatoes, give them a good shake in the colander which will give them a lovely crispy edge. Bake for around 45-50 minutes at 200c until golden brown.