Swiss Farm's Guide to Crackling Perfection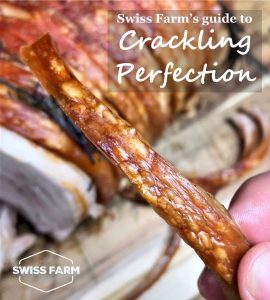 Crispy crackling. It's the gastronomic dream for fans of roast pork – and for good reason! With one bite, you get crunch, moistness and a delectable hit of salt combined with pork flavour. It's terrific. Crunchy crackling, however, is not always guaranteed and it's somewhat of a culinary art. Luckily, we have a simple guide for crackling perfection, and it's one that can be used for all our tasty pork joints.
Simply put, crackling is the pork skin, and when cooked perfectly, it has a thin, scrumptious layer of fat underneath the crisp. It's delicious and takes on even more wonderful flavours when dipped in gravy and our new, small batch Bramley Apple Sauce. Sweet n' salty – you can't beat it.
Now, good crackling starts with the joint, and our pork joints at Swiss Farm are ideal for hearty roasts and crispy, crunchy crackling. Whether you choose our pork legs, pork loins or pork shoulders, you're getting a joint that's 100% English, locally sourced and freshly prepared by our master butchers right here at Swiss Farm. As well as being quality pork at great value, our pork joints are also pre-scored (apart from gammon) saving you prepping time.
Enough of the backstory, let's get cooking!
Here's what you need
One of our pork roasting joints
Olive oil
Salt for seasoning
Sprigs of fresh rosemary or sage
Half a lemon (for the juice)
Swiss Farm's 4-Step Guide to Crackling Perfection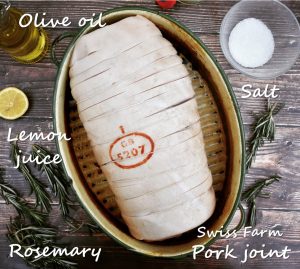 Before prepping your pork joint, you'll want to weigh it!
To start, take the pork joint out of the fridge 30 minutes before roasting and pat dry with kitchen roll. This well help dry the skin out. Now, pre-heat the oven to the highest temperature (around 240°C).
Once the oven is up to temperature, place the pork joint into a large roasting tin and rub generously with olive oil. Be sure to cover all over the joint and between the scores. Now, season with salt rubbing all over again (this well help the skin to crisp and blister). For an added flavour boost, shove some fresh sage or rosemary sprigs into the scores and drizzle lemon juice over the joint.
Place joint into the oven and cook on full whack for 30 minutes. The crackling won't be crispy after 30 minutes, but the short blast has set it on its way! Now, turn down the oven to 180°C and roast for 25 minutes per 1lb.
Once cooked to crispy perfection, let the joint rest! This is something you'll want to do for all roasting joints. It lets the juices settle and makes the meat even more tender!
Now, should you find the crackling isn't as crispy as you'd like, fear not! As the cooking nears the end, turn up the oven's temperature and cook for an additional 10-15 minutes.