How To Cook The Ultimate Tomahawk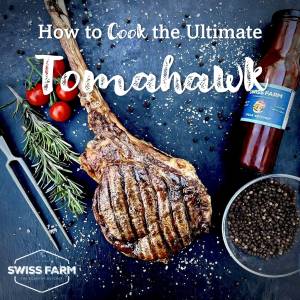 Before we delve into the magical world of Swiss Farm steak, here's a little info about Tomahawks and just why they're so awesome.
What is Tomahawk?
If you've walked into either our Ashbocking, Great Bromley or new Aldeburgh butcheries, you'd have no doubt wandered along our fresh meat counters and seen a hefty chunk of bone-in steak, rich in marbling, calling your name – that would be our mighty Tomahawk.
Taken from the rib, Tomahawk (also known as bone-in Ribeye or Cowboy steak) is, as the names suggests, simply a wonderful hunk of Ribeye steak on the bone. With marbling weaving its way through the red, tender meat, it's one of the tastiest steaks you can buy, and thanks to the softness of the meat, the added flavour-boost from the bone, and the layers of marbling, which once cooked, renders down beautifully.
Why's it a BBQ favourite?
The mighty Tomahawk is a BBQ favourite for a reason. Aside from being incredibly tasty, tender and serving potentially two people (notice how we said potentially!), it's also a BBQ showstopper and great fun to sizzle on the grill. Grab the bone, sprinkle the meat with salt and pepper, chuck on the barbie, and prepare to slice up the tastiest Tomahawk you've ever had.
What's the best way to cook a Tomahawk?
For Tomahawks and all our BBQ meats, we favour a charcoal BBQ as cooking over hot coals gives the meat a subtle, yet delicious, smokiness. However, you can easily pan-fry a Tomahawk, and roast in the oven too. Either method is delicious.
£20, you say? And they're available at all your country butcheries?
They are indeed! As with all our meats, our £20 Tomahawks are full of Swiss Farm quality and at prices you can afford. It was our mantra when Dot Ridgway founded Swiss Farm 50-years ago, and it remains that way to this day.
Tomahawk BBQ Cooking Guide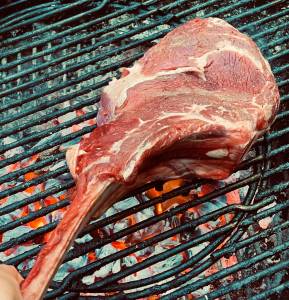 BBQ, set. Charcoal, set. Matches, set. Tomahawks, set. Now, let's get sizzling…
Firstly, remove the Tomahawk from the fridge and let it rest for 30 minutes before cooking.
Season both sides of the steak with salt and pepper, rubbing into the meat. For an added flavour boost, add a sprig of rosemary onto the meat too.
Now, fire up the BBQ and wait until the coals are glowing orange. If you're indeed using charcoal, this might take 15-20 minutes.
Once BBQ is up to temperature and with Pig Beer in-hand, grab the Tomahawk and sear directly over the heat for 1-2 minutes each side.
Now seared (which will give you a lovely, barky texture once cooked), move the Tomahawk off the direct heat and place the lid on the BBQ. For a medium-doneness Tomahawk, cook for 20-odd minutes, turning over every 5-10 minutes.
If in doubt, shove a cooking thermometer into the meat and cook to an internal temperature of 58ºC.
Once cooked, let the Tomahawk rest for 5 minutes (which is a must for all steaks!). This allows the juices to settle and makes the steak even more mouth-wateringly tender.
If you haven't got a BBQ (or more likely have run out of charcoal!) here's an easy oven-cook method – and the same cooking principles from above apply!
Heat oil in a pan and sear Tomahawk for 1-2 minutes each side. Next, place Tomahawk in an oven dish and cook in a pre-heated oven at 180 ºC for around 20 minutes. After devouring Tomahawk, nip out and stock up on charcoal.
Tomahawk Steak £20 each.
To see our full steak range, check out our BBQ Brochure and visit us in-store at our Ashbocking, Great Bromley and Aldeburgh shops.